Man On A Mission: Andrew Gentry Bringing Lessons Learned As Missionary To Michigan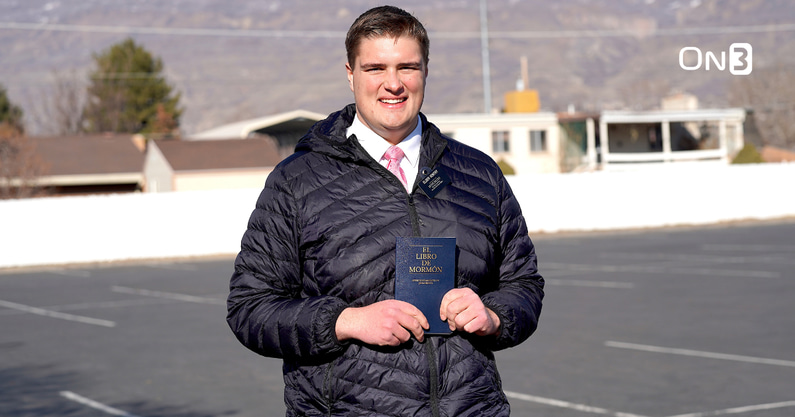 Editor's Note: This story originally ran in the recruiting edition of The Wolverine Magazine, which is available for purchase here.
A man known only as 'Pa' is teaching self-defense in the back of a small apartment complex. It's so early that it's still pitch-black outside. Pa, who appears to be in his 70s, is sporting khakis and suspenders — far from the attire one would be expected to wear in the gym.
Pa, however, looks comfortable as he puts his fists up and explains different techniques.
Adjacent to him is towering 6-foot-8 Michigan offensive tackle signee Andrew Gentry. While Pa does a karate chop from what appears to be straight out of the Mr. Miyagi playbook, Gentry finishes his workout session with rapid sets of curls.
Gentry's arms almost fall off as the sweat drips down his forehead and glistens in the dimly lit room. Aside from Pa and a rack of dumbbells, there are a few machines and treadmills. That's all Gentry has to work with as he prepares to arrive in Ann Arbor in June.
"Right now, I'm not too concerned about it," Gentry explained. "I'm not where I was before, and that's okay. If I serve and dedicate everything I have here, the Lord is going to bless me when I return."
Sporting a Maize and Blue Michigan hoodie, Gentry can only envision his future home. U-M boasts state-of-the-art facilities, a weight room around 10 times the size of the one Gentry currently works out in, plus an entire strength and conditioning and nutrition staff.
For now, Gentry lives in a reality where he can only lift and condition for half an hour each day. The rest of his time is dedicated to a higher purpose.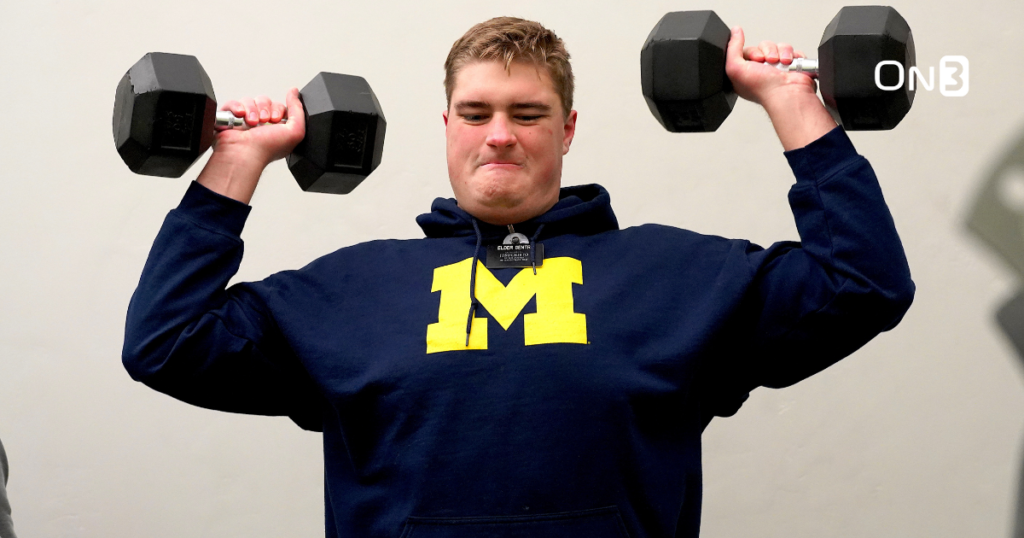 The Ultimate Mission
It's 6 p.m. in Orem, Utah, and the temperature is beginning to dip into the low 30s. After a canceled teaching appointment, Gentry and his companion, Hyrum Johnson, a lanky 21-year-old about eight inches shorter than Gentry with dusty brown hair and an inviting smile, are getting ready to go door-to-door to spread their message.
Here, Gentry is no longer a much-ballyhooed football recruit out of Littleton (Colo.) Columbine. He's not even Andrew. As a missionary for The Church of Jesus Christ of Latter-day Saints, he is known to all as Elder Gentry — a respectful title typically reserved for missionaries.
Gentry is 19 months into his two-year mission. While he did have the option to postpone or forego his mission entirely and play college football right away, Gentry felt compelled to temporarily pause school and football to pursue his faith — missionaries can only have a full two-year experience between the ages of 18 and 25.
During their mission, young men and women from all over the world work tirelessly to build a personal connection with the central figure of their religion, Jesus Christ, assist communities through teachings and service, and recruit others to join the church.
"Our purpose is to invite everyone to come up to Jesus Christ by helping them receive the principles that we teach — in faith, repentance, baptism, the gift of the holy ghost and enduring to the end," Gentry said. "It's cool because what you're teaching these people will bring them joy not only in this life but the life to come. What you are doing is making an impact that will change lives forever."
With the Book of Mormon in hand, Gentry and Johnson have unwavering belief in their faith. That's why on this bitter winter night, the two missionaries have absolutely no issue braving the weather and inviting strangers to follow a similar spiritual path.
This particular neighborhood isn't exactly affluent, either. Gentry and Johnson have been assigned to conduct their work with a growing in the Hispanic community in Orem. The fastest-growing population in Utah is of Hispanic ethnicity. Immigrants from different parts of Mexico, Central America and South America are flocking to the area in droves.
While Gentry and Johnson have never felt unsafe in the area, the community is made up of people from less-than-ideal circumstances. And that makes Gentry's work all the more important.
"It's been a huge blessing to help the Latino and Hispanic community," Gentry said. "They are some of the most faithful people you'll ever meet. You don't meet a lot of people that don't believe in God or a higher power. A lot of them have moved from the worst circumstances you can imagine. "I've talked to a lot of people that have experienced hardships. It's been a testimony to me to help them. They are also some of the happiest people I've ever met in my life. I love to learn the language, the culture … and eat the food."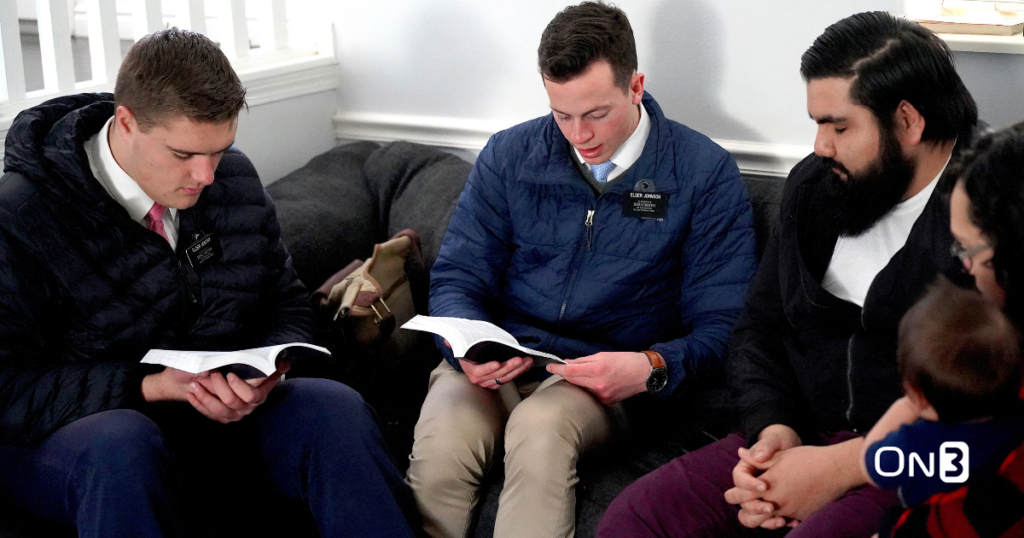 A woman yells from her balcony before Gentry and Johnson enter an apartment complex. She's also a member of the church and expresses excitement that the missionaries are at her living quarters. Another woman walks by and says she wants to talk but can't right now. It's hard to make out her words as an aggressive Chihuahua barks through a nearby window. She invites Gentry and Johnson back at a later time to discuss the Book of Mormon and her literature of choice, the Bible.
Gentry and Johnson enter the building and reveal a carpet-lined hallway with white doors. The setting is reminiscent of a motel from the 1990s.
They knock on Door 553. No answer. They try a few more times before moving on to Door 551. No answer. It's not unusual for missionaries to see doors remained close. On average, Gentry and Johnson knock on 20 doors per day and success rates vary with answers being on the lower end. The pair climb a set of stairs and move on to Door 599. A woman named Jeannette, who has expressed interest in the church in the past, answers but quickly shuts it as sounds of a fussy infant can be heard in the distance.
After a few knocks on Door 597, a woman named Sol answers in a frazzled state. She's making soup and says she's not interested.
Gentry, however, never lets a negative answer bother him. He kindly asks to read a passage out of the Book of Mormon and does so in Sol's native tongue. A near-fluent Spanish speaker, Gentry has no issue with communication. The soup waits as she explains she has no religion but does believe in a higher power. A native of Venezuela, Sol is a bit of an anomaly in the community as she has no religious affiliation. Sol discusses spirituality with Gentry and Johnson for about 10 minutes.
When she ends the conversation, Sol says she still has no interest. But her actions indicated, at the very least, intrigue.
"The Hispanic community loves to talk about Jesus Christ," Gentry noted. "We tell them that we are representatives of Jesus Christ, which we are. They have very deep roots in Catholic and Evangelical beliefs. There are difficulties, but when you teach Hispanic people, they are willing to listen. Some want to read the Bible with you and whatnot. It's been cool to get different experiences. But for the most part, we've seen a lot of love from them.
"Our job is to teach the principles we know to be true, and we let people make those decisions for themselves. Our approach is to testify and teach them what we know through prayer and scripture study. We help them pray and read The Book of Mormon. Our goal is to help them do those things."
Not all are receptive, but Gentry remains focused on his faith's principles.
"It's a different process to go knock on somebody's door and not know who's behind it and try to share a message with them," he said. "It was a little awkward at first. But the thing that helped me out the most is I believe in this message.
"I wouldn't have left my home or given up football for two years if I didn't know it was true. Every time I went to someone's door, I knew it was true, so it made it a lot less awkward. It took some learning and getting used to in order to figure out how to best help these people."
A Commitment Like No Other
"So what kind of music do you like?"
Johnson, a native of Monticello, Utah, a small town near the Utah-Colorado border that was once settled by LDS pioneers, is genuinely interested to know.
When told Hip-Hop artists like Kanye West and Kid Cudi, Johnson becomes excited. He also listened to both Grammy Award winners before departing on his mission. During his time in Orem, Kanye West and Kid Cudi have released major albums and are set to have projects available for consumption on streaming giant Netflix. Johnson can't listen or watch any of it. Neither can Gentry.
As missionaries, Gentry and Johnson are fully committed to their work. Missionaries are instructed to avoid all forms of worldly entertainment. That means most music, television, movies and social media. Missionaries, for the most part, are completely disconnected from society.
In fact, missionaries can only make phone calls and communicate virtually with family members on Mondays, which are considered preparation days. On Mondays, missionaries can shop, do laundry and accomplish other life tasks as they get a break from their daily schedule of teaching and studying. Preparation days last until about 6 p.m. when missionaries resume normal activities related to their mission.
"It's weird. You don't have access to just look up a question on Google," Gentry said with a laugh. "For me, it's been a blessing. It teaches you how to be disciplined. In our world today, there are a lot of people that spend hours and hours on social media. "As a missionary, you have an opportunity to fully dedicate yourself to what you are doing at that time. You don't have to worry about the distraction of the outside world."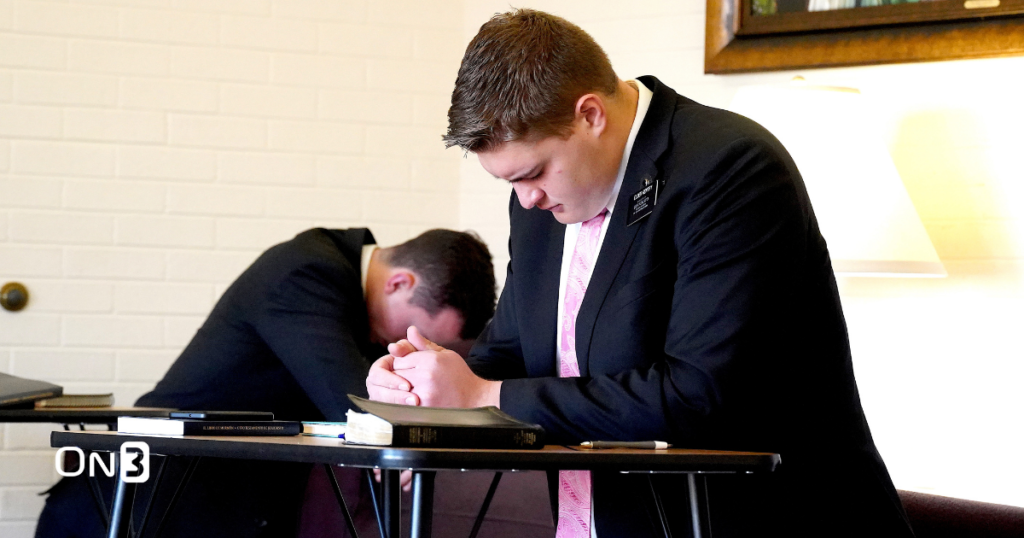 Gentry's older brother, JT, is an offensive lineman at BYU and lives just five minutes away. However, Gentry has not been able to see him as he must remain within his mission boundary.
Gentry jokes about having Raising Cane's delivered. It's outside the mission boundary despite being just a few miles away, which means dinner for the night is Chick-fil-A. As Gentry approaches the counter, he's recognized by the cashier, Trystan, who appears to be around 18 years old.
Trystan gets so animated when talking about Michigan and Jim Harbaugh that he forgets to give Gentry back his change. Gentry just brushes it off. He doesn't want to be known as Andrew Gentry the football player. He wants to be known as Elder Gentry.
"It's admirable," Johnson said. "The normal person would probably get a little prideful about it. Elder Gentry has really kept his peace about it. He hasn't made any big remarks about it or anything. It's a prime example of humility getting you where you are.
"I know Elder Gentry worked super hard for everything he has in his life. It's been an influence on me and every person he's come in contact with."
Gentry and Johnson are also amazed at the site of an iPhone 13. Missionaries are allowed to have phones, but they are Samsungs provided by the church with limited capabilities – that means no Internet surfing. The phones are primarily used for planning and communicating with those scheduled for teachings and other missionaries.
It's easy to see that a mission requires significant self-discipline and commitment. And that should carry over well to Michigan.
"He is going to excel," mission president James Evanson said. "He has that mentality of trying to do things exactly as they should, being responsible, listening to his own feelings and thoughts, and trusting the Heavenly Father. I think he'll lift other members of the team. He has a real knack to motivate people. Missionary work isn't the military, but it does create self-discipline and personal drive, which will translate really well into academics and athletics. Along with that, missionaries know how to study and apply."
Gentry remembers having lunch with former BYU offensive lineman Eli Herring, who also served a two-year mission and was a projected first-to-third-round NFL Draft pick after college. He was still selected in the sixth round of the 1995 NFL Draft, but turned down a three-year, $1.5-million contract to become a high school teacher that would not have to work on the Sabbath.
Gentry asked him about how to apply what he learned on his mission to being a student-athlete at a place like Michigan. The advice is something he fully intends to take with him to Ann Arbor.
"Something he said that I plan to apply is that on a mission, you learn to do things with the help of the Lord on your side," Gentry recalled. "Before the mission, I relied a lot on myself. On the mission, we pray before everything we do. We know there is some heavenly help. What's important to us is important to God.
"As a student-athlete going to Michigan, I fully intend to apply that in my life. I'm going to ask the Lord for help before class, before I go to the weight room and before I go to practice. I know he's going to help me. "It's also the power of planning. We have to live on our own, so we have to plan our days, make our meals, help manage other missionaries, clean and so many other things. I can't even call my mom and ask her how to cook something. It's something I'm excited to apply."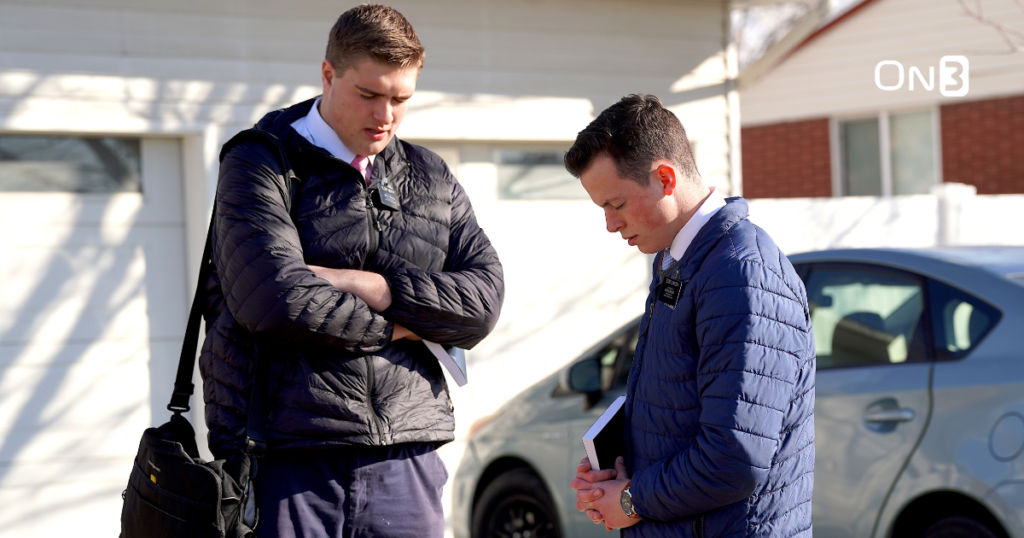 Gentry has also learned the value of teamwork. All missionaries are assigned a companion to live and serve with for around 12-18 weeks before being assigned a different companion.
"You're thrown into a situation where you live with someone you've never met for 24 hours a day," Gentry said. "It's the same with a football team. You have to learn to combo block with someone you've never met before. As a missionary, you learn how to get to know someone and work with them quickly.
"I've learned a lot of skills in regards to getting to know people quickly and working with them efficiently. I plan to use that at Michigan to help me with school and football."
Staying The Course
All missionaries receive their call to serve after submitting recommendation papers to the church. Gentry submitted his interest in January 2020 and received his call to serve in Argentina the following month.
Gentry was set to travel to Mexico to learn Spanish for six weeks at a missionary training center before making his way down to South America.
That never happened.
Due to the COVID-19 pandemic, Gentry learned Spanish online in just six weeks and was reassigned to Utah.
"It was definitely a shock," Gentry said. "But about nine months in, I got this feeling that the Lord needed me here to teach people and to meet people in this mission. It was a feeling out of the blue, and we call that a prompting. I knew it came straight from the Lord. At that point, I said, 'I'm going to stay here because I feel like I need to stay here.' And obviously, I loved it, too."
Gentry was eventually given the opportunity to finish his mission in Argentina but politely declined. He's invested so much in the Hispanic community and fully believes he's right where he needs to be.
That couldn't have been more evident as Gentry smiled from ear to ear when a middle-aged Hispanic man named Agustin finished his final meeting and set a date for his baptism. Agustin immigrated from Mexico to Orem in 2017 in search of a better life.
His interest in the church began soon after when a missionary offered him a ride during a walk to a friend's house. Agustin still had 30 minutes left on his walk, so he had plenty of time to listen to what the missionary had to say. It took Agustin some time, but he eventually started to express more and more interest.
Over the past several months, Agustin has received teachings from Gentry and Johnson on a regular basis. Once baptized, Agustin will be an official member of the church.
"Elder Gentry is very motivational," Agustin said. "He always approaches things with sincerity. You can feel it. He's very affectionate. You can see Jesus Christ's reflection in Andrew. He's an incredible person."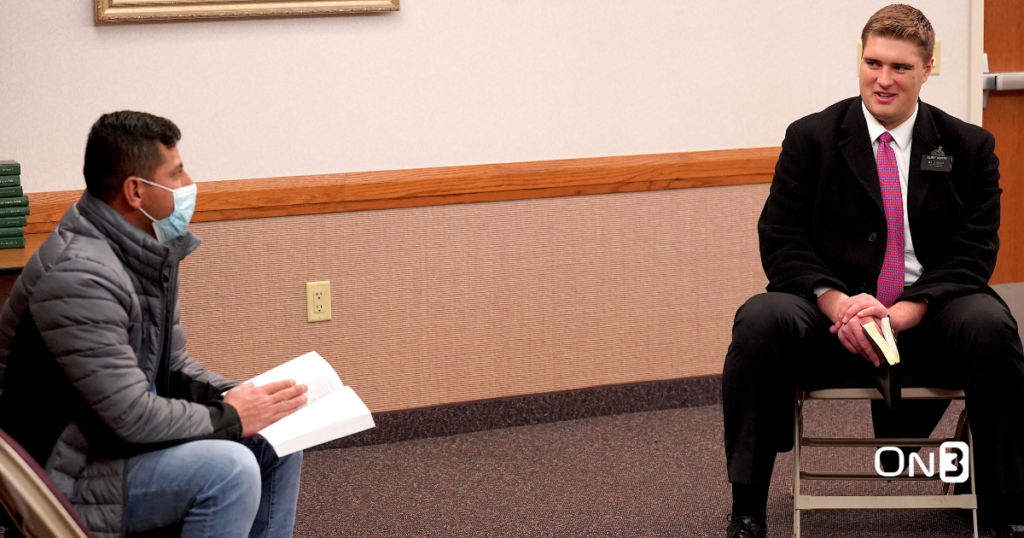 Along with helping people of the community from a spiritual standpoint, Gentry also does some physical work if called upon. During his mission, he has helped people move, shovel snow, paint houses, mow lawns and much more.
"The other night, those two showed up wearing their shirt and tie, and they were filthy," Evanson said. "They had just spent the evening helping an older Hispanic man move out of his trailer and into another place. They actually do a lot of moving — but any service they can find, they'll do it."
Gentry has also taken on a leadership role within the mission as an assistant to the president.
"He's a great leader," Evanson said. "He's extremely responsible. You give him a task, and it gets done. I never have to ask Elder Gentry to do something twice. He's a self-starter. He comes up with great ideas. A lot of times I'll be thinking of something that needs to be done, and he'll already have done it.
"He's extremely motivational and highly inspirational. Right along with that, he is very compassionate. He's the nicest guy you'll ever meet. He just loves people. You think of this football player — a 6-foot-8 lineman no less — and he is such a gentle and kind person. He has so much conviction for the Church of Jesus Christ of Latter-day Saints. He's what we want in a man who serves a mission."
A New Home
Gentry was knocking on doors and going through his usual duties as a missionary while Michigan was the talk of the college football world after beating rival Ohio State for the first time in a decade. 
Gentry had no clue about the result of The Game. He was also oblivious to the fact that Bronco Mendenhall stepped down as the head coach of the Virginia Cavaliers just a week later. Gentry signed with Virginia over Michigan during his initial recruiting process and fully intended on joining Mendenhall, a fellow member of The Church of Jesus Christ of Latter-day Saints and ex-BYU coach, in Charlottesville. 
News of Mendenhall's departure eventually got to Gentry and a release from his National Letter of Intent was granted. 
"When the news broke, my wife and I quickly realized this was going to be a life-changing event for Andrew," said Gentry's father, Todd. "Before he left, he had mentioned that if the staff was broken up, and if Bronco Mendenhall left, he would reconsider his decision. We also realized with him being a missionary, he wouldn't want to be re-recruited. He was very thorough in the recruiting process. We couldn't speak to him until Monday, but we emailed him and updated him on the situation.
"We didn't know this until Monday, but Andrew spoke to his mission president, and they provided some counsel to Andrew. He told him it was important for him to prepare for going home. They told him that if he needed to talk to his parents or anyone to do that, but make sure to take care of what needs to be taken care of with his mission. He prayed a lot. By the time we spoke to him on Monday, it was evident that he wanted to go to Michigan." 
Todd quickly reached out to Harbaugh, who, along with offensive line coach Sherrone Moore, hopped on a plane to Utah to meet with Gentry. Harbaugh had lunch with Gentry for about 45 minutes and earned his commitment on the spot. 
Had Gentry gone to Argentina when offered the opportunity, there is a good chance the meeting with Harbaugh never would have happened since he would have been outside of the country.
Gentry genuinely believes he was led to Michigan. 
"Michigan has a lot of great characteristics," he said. "The academics are great. The football program is great. It's hard not to consider those things. Better information leads to better inspiration. I had the information, and I just felt very strongly that Michigan was the place to go. 
"Meeting with Coach Harbaugh was a second confirmation. Even from the beginning, he was very supportive of me serving a mission."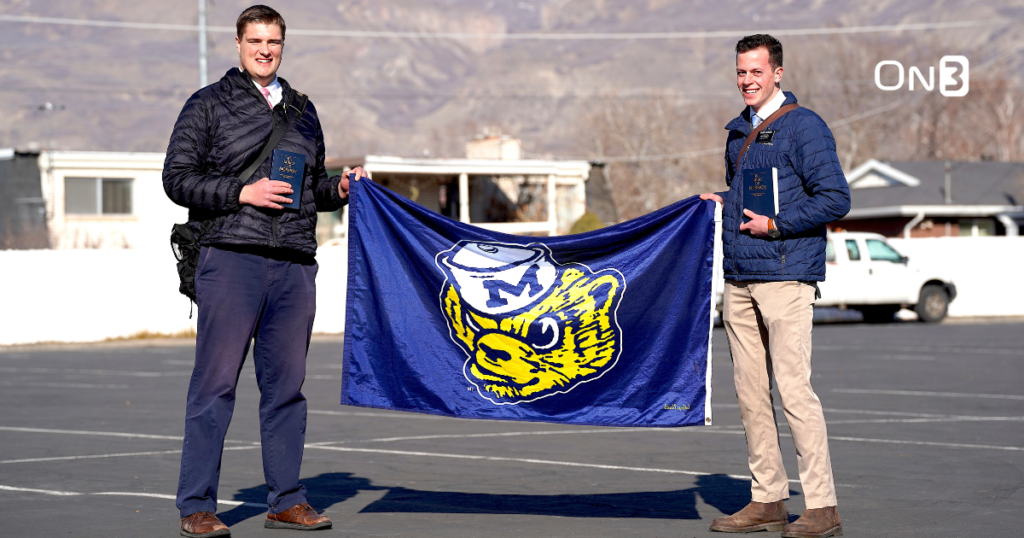 It may sound a little peculiar, but he also still believes he was called to Virginia out of high school. 
He recalled a story once told by a fellow missionary: A man and his son hit a fork in the road and decided to go left. When they got to the end of the road, they hit a dead end. The two turned around, and the son asked why they both felt like they needed to go in that direction. The father responded, "Sometimes the Lord has us go one way to show us that's not the way we're supposed to go."
Gentry took that lesson one step further. 
Instead of just going to BYU like his brother or finding another school with a tie to the church, Gentry decided to blaze his own trail and made it official by signing with Michigan in December — a school far away from home with no Mormon link. This new road may be a little more difficult, but he is ready to embrace the challenge.
"It's kind of weird," Gentry admitted with a laugh. "Like I said, I felt strongly about it, but I also felt like I could be an influence out at Michigan. You can be a great influence at BYU as well. My brother has seen that. But you are part of the majority. I thought it would be a cool experience to be the only one. I thought it was a cool opportunity to share some of my beliefs. I'm really excited about that."
Gentry graduated from Columbine High School, a place well-known for overcoming tragedy, is on the cusp of completing a two-year mission and found his way to the University of Michigan, which boasts prestigious academics and the winningest football program of all time.
Needless to say, his journey to donning the iconic winged helmet has been nothing short of miraculous. 
"It's been cool to see the hand of the Lord in all of this," Gentry said. "It's meant a lot to me. I firmly believe it's about the process of changing. I feel like I've matured and grown spiritually. I was raised in that Columbine community, where you work for the things you have. You move past adversity. 
"That's one my favorite things I learned at Columbine High School and on my mission— this journey has taught me that I'm a lot stronger than I know."