Michigan basketball collapses in final minute, ends season with loss to Vandy in NIT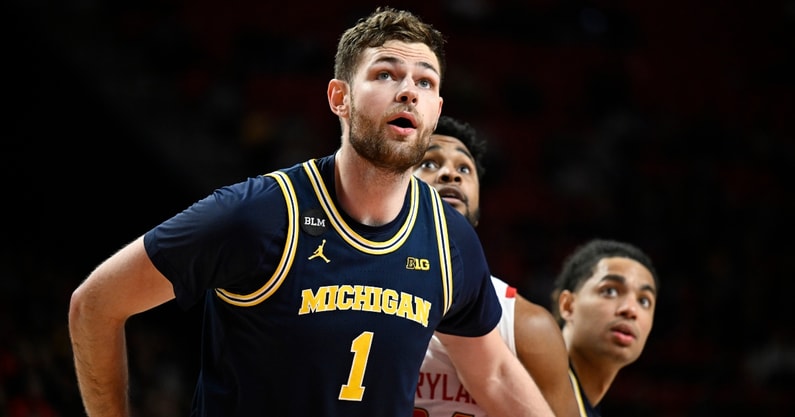 Michigan basketball (18-16) choked away a final-minute lead at Vanderbilt (21-15) on Saturday, losing by a score of 66-65 in Nashville, ending its NIT run and its 2022-23 season. The Commodores used a 9-0 run in the final minute amid a laundry list of U-M errors to take the victory.
Michigan came into the showdown with Vanderbilt severely undermanned. Freshman wing Jett Howard missed his second consecutive game with an ankle injury, but was joined by sophomore guards Kobe Bufkin (ankle) and Isaiah Barnes (leg) in not dressing for game action.
With Howard and Bufkin out, Michigan turned to a starting lineup that included freshman point guard Dug McDaniel, junior forward Terrance Williams II, graduate wing Joey Baker, freshman wing Youssef Khayat and junior center Hunter Dickinson. Khayat's start was the first of his career.
First Half
Michigan's unorthodox starting lineup got out to a 5-0 run to start the game. Dickinson hit a baseline jumper before Khayat hit a 3-pointer. Unfortunately, it would be followed by a 17-0 run for the Commodores, who took a 17-5 lead at the 12:53 mark. Layups from Williams and McDaniel helped narrow the deficit to 17-10 after a McDaniel free throw with 11:40 left. Williams extended the run on a steal and layup to climb to within 17-12, then McDaniel hit a jumper to cap off a 9-0 run.
Vandy's Paul Lewis hit a three-pointer to end the Michigan run, but McDaniel answered at the other end, putting the score at 20-17 with 10:04 to go. McDaniel followed it up with another three, tying the game at 20 apiece with 9:21 left in the half.
Michigan had to tinker with some odd lineups over the next few minutes, including Williams handling point guard duties. With Vandy leading 22-20, the Wolverines rattled off a 4-0 run to take a 24-22 lead with 6:58 to go. The Commodores then went on a 5-0 spurt over the next few minutes taking a 27-24 lead into the final media timeout of the half. McDaniel got the game to within one point with a jumper, followed by a Dickinson layup to take the lead back at 28-27 (2:35). Heading into the locker room, Michigan held a 30-29 lead.
Second half
Dickinson got the scoring stared for Michigan in the second half on a hook shot at 19:12 before Vandy got a jumper back at the other end. Baker's jumper in the paint gave U-M a 34-31 lead with 18:25 to go. A quick 4-0 run from Vandy helped them take a 35-34 lead back with 17:36 on the clock. Both teams would trade barbs over the next few minutes, but five free throw makes from Baker and a dunk from Dickinson helped Michigan out to a 43-40 lead (14:12 to go).
Dickinson came right back and scored a pair of makes and free throw with 11:33 on a personal 5-0 run to help U-M out to a 50-42 lead, its largest of the game. A pair of made free throws made it a 7-0 Dickinson run, stretching the lead out to 52-42 in favor of the Wolverines. Vanderbilt star Ezra Manjon helped get the Commodores within 7 before McDaniel hit a jumper at the 9:57 mark to gup back up 56-47. A quick 4-0 spurt from Vandy forced a Michigan timeout up 56-51 with 8:18 remaining. A trio of free throw makes from freshman center Tarris Reed put U-M back up 59-51 with just under 8 minutes to play.
Michigan led Vanderbilt 61-57 at the final media timeout (3:14) after the Wolverines and Commodores traded baskets. Baker initially had a three-pointer, but it was taken away after a review, dropping the lead from 62-57 to 61-57. McDaniel hit a shot in the paint with 2:31 to go to help push the lead back to six at 63-57. Baker hit a jumper to help balloon the lead to 65-57 with 1:45 left.
From there, it was a slow bleed that led to the death of Michigan's season. Three turnovers in the final minute sparked a 9-0 run from Vandy to end the game, and the year. The Commodores would win 66-65.
Michigan at Vanderbilt: Final box score, stats