Michigan DB Rod Moore joins Fans Meet Idols to boost NIL opportunities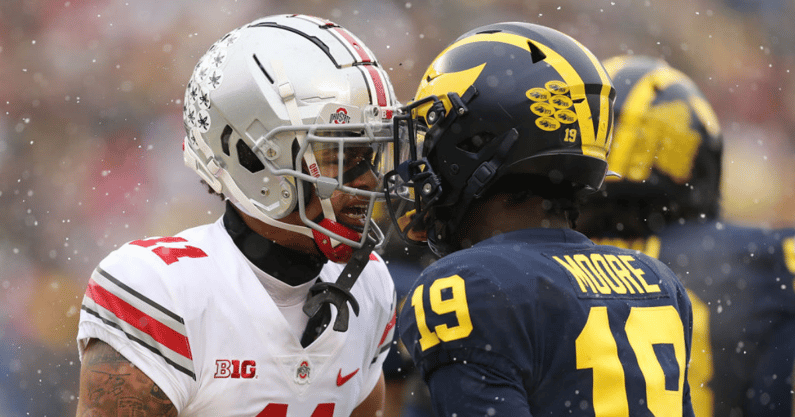 Michigan sophomore defensive back Rod Moore is now the latest Wolverine to partner with Fans Meet Idols. The Atlanta-based company was founded in July 2020 to help student-athletes monetize their name, image and likeness by giving them a shareable storefront in a direct-to-fan marketplace. 
Moore is offering personalized Spotify playlists, autographs, recruiting advice, gaming opportunities, video messages, business promotion and other interesting content through the platform. Prices range from $14 to $299. 
Freshman Recap: Michigan DB Rod Moore
Moore appeared in 11 games and made four starts at safety for the Wolverines last season as a true freshman. He recorded a career-high nine tackles to help Michigan earn its first win over Ohio State in a decade and went on to secure a starting spot against Georgia in the College Football Playoff semifinal.
Mission — Fans Meet Idols 
Via fansmeetidols.com: "We believe the broadest opportunities for the majority of student-athletes are with their fans, which is why we created this direct-to-fan marketplace. Our mission it to help student-athletes become entrepreneurs while conditioning behaviors of following the rules and giving back to their community.
"We are led by a seasoned team of professionals with expertise in collegiate athletics, compliance, NIL, eCommerce, finance, technology and internet law."
Moore gives his take on NIL
Moore in an April Q&A: "I don't have a lot of NIL deals going on. I haven't gotten into any of that yet, but I've seen a lot of other college athletes going around with it and generating a lot of money. I think, in a sense, it makes college athletes play harder. Because the harder you're playing, the more you're putting yourself out there. […] Being able to hold events like this is just a really good thing for college athletes, so they can start getting paid for their name, image and likeness."
The Wolverine, $1 for 1 year
This subscription will give you access to premium Michigan football, basketball and recruiting content. Our team of recruiting insider EJ Holland, team insider Chris Balas, columnist John Borton, staff writers Anthony Broome and Clayton Sayfie, and contributors Trevor Ritchie and Marshall Levenson make up the best team in the Michigan market.
You can also subscribe to The Wolverine magazine, which is published monthly for a total of 11 full-color issues annually. The Wolverine Football Preview Magazine, a full-color, 164-page magazine packed with great information about the upcoming season, will be available in July for individual purchase.
Follow The Wolverine on various social media channels, including Facebook, Twitter, Instagram, YouTube and TikTok. The Wolverine podcast shows are available on iTunes and Spotify and are released on an almost daily basis. Video versions of every podcast can also be found on our YouTube channel.