Jim Harbaugh on J.J. McCarthy: 'Do not break the stallion ... I want him gunslinging'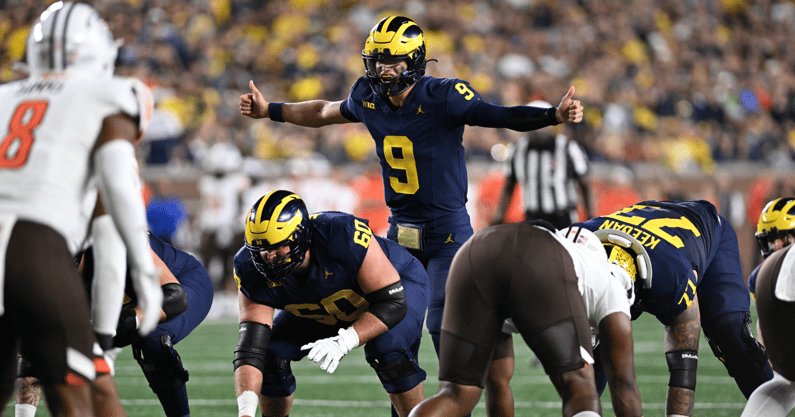 For the first time in his career, Michigan Wolverines football junior quarterback J.J. McCarthy threw 3 interceptions in a game, a 31-6 win over Bowling Green Saturday night. One came due in part to a route spacing issue in the end zone, the other on a "bad read," per offensive coordinator Sherrone Moore and the third while McCarthy was trying to throw the ball away after being pressured and flushed from the pocket.
McCarthy only threw 2 interceptions last regular season. He's totaled 10 in 28 career games at Michigan. The evidence shows that he's not overly mistake-prone, but he does take some risks. Discussing on the 'Inside Michigan Football' radio show Monday night, head coach Jim Harbaugh said he's "good as gold," and while there are areas that need to improve, he wants his quarterback to stay who he is.
RELATED
• Greg Schiano: Michigan 'could be easily ranked No. 1' … 'utmost respect' for Jim Harbaugh
• MMQB: Michigan defense saves sloppy offense, run game gets going
Before Michigan's game against Bowling Green, Big Ten Network ran a graphic showing that McCarthy had thrown 5 touchdowns to only 7 incompletions through two games (wins over East Carolina and UNLV). That's how impressive he had been. At some point, Harbaugh said in his press conference earlier Monday, the "law of averages" was going to catch up.
"The expectations of — he was playing so on fire, so phenomenal — that he's going to continue a 90 completion percentage," Harbaugh said on the radio. "And the first time in my career that I've ever even heard a quarterback — let alone coaching one — that they were comparing touchdowns to incompletion ratio. Touchdowns to incompletion ratios! How unbelievable is that? 
"Taking in all the film, everything that occurred — such great learning there. I'll say this. A couple of the things are easily coachable, got 'em coached — but I'm not ever going to make him a victim of over-coaching. I don't want him to change. I want him gunslingingThis is a guy who's an unbelievable competitor. I want him gunslinging. I don't want anybody making a mistake that I've seen made before, where you break the stallion. To a man on our team, there's nobody that wants to see J.J. McCarthy change the way he plays."
The Michigan coach did identify one way in which McCarthy can change for the better, but it wasn't in the pass game.
"One thing that I do want him to do, when he's running the ball, when he goes down, he can't break his fall with an off arm," Harbaugh explained. "You gotta go down line a no-arm man, where those arms are on the ball or protecting the ball. And you can ask him, that's the biggest thing about his game that I told him that definitely needs to change."
The Michigan signal-caller can work on his "eye discipline" and "a little bit of footwork," Harbaugh continued, but he reiterated that he still wants McCarthy to be aggressive.
"I'll tell you a story, and I'm not going to use any names so I protect the innocent," Harbaugh said. "When a quarterback throws an interception, maybe even two, it doesn't matter — they won't throw another one; they won't come close. Even if the team is somewhat behind, they're not going to throw another interception.
"J.J. threw his third, we were up by 25. He's throwing it to Colston Loveland, who's one of the best playmakers we have, and he's competing, he's trying to have the game. But that, I can live with that. I know, hey, this kid doesn't need to change one bit. Because if we were down by four at that point, he would've tried to make the same play. I also know that if we were up by six or four at that point, he wouldn't have tried to make that play."
Added the Michigan coach: "But the thing you can't have is the guy that's scared to make a play or scared to make one more bad play because he doesn't want to get blamed for the loss. That's the kind of … it's terminal insecurity. I don't think me or anybody else can coach somebody out of that.
"But what we have in J.J. is, yeah, he's everything you want, in terms of the competitor, the gunslinger, everything that, boy, you just don't want to coach out of him. Do not break the stallion, do not make him a victim of over-coaching. I'm glad I'm in the position to coach him, because I know where he's going. I've been to this movie, I've seen this before. He's great."
Michigan's next challenge comes Saturday at The Big House, with 3-0 Rutgers coming to town for the Big Ten opener.