Michigan football: Trevor Keegan gives O-line intel heading into fall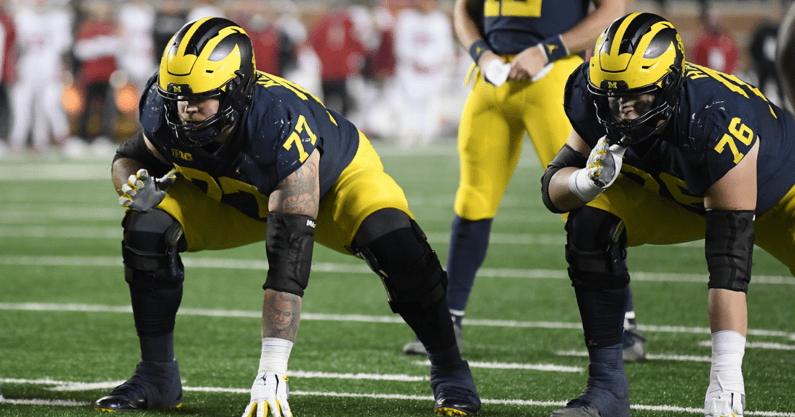 Michigan head coach Jim Harbaugh had high praise for his offensive line this spring, insisting they had a chance to be better than last year's Joe Moore-award winning group. The Wolverines have to replace two starters in center Andrew Vastardis and right tackle Andrew Stueber, but they have talented players vying for the two vacant positions. 
RELATED: Inside the Fort – Michigan football, basketball & recruiting intel (5-23)
Center, in fact, might be an upgrade. Junior right guard Zak Zinter believes Olu Oluwatimi is going to win the Rimington Award given to the nation's top center, he said Sunday. Veterans Trente Jones and Karsen Barnhart give Michigan two great options at right tackle. 
"It's been awesome. Competition is good," left guard Trevor Keegan said of the right tackle battle. "It makes everybody else work harder. It makes the D-line work harder; it's been good. Karsen and Trente are playing really well."
It could be even more intense this fall, he added, for one big reason.
"Karsen's had a little back program. Once he gets back to full strength, that competition is going to be crazy during camp," he said. "I'm excited to see them ball out — excited for both of them."
And for the entire line given what they showed this spring, he added.
Though the Michigan d-line held its own, the offensive line continued to make strides. Oluwatimi has Vastardis' smarts and savvy, Zinter noted, but he's much stronger. Defensive tackle Mazi Smith said he had some wars with the Virginia transfer this spring, and he's excited to pick up where they left off. 
"He's picked up on the offense quicker than anybody I've seen come through," Keegan said. "He was meeting with one of our G.A.s [graduate assistants] once he got in. He was at install seven by the time we got to the first practice … already had it down. It was just a couple calls, procedures in the rotation [he needed work on]. Other than that …"
It was as though he'd been playing with them for years. 
That's what gives this year's line an advantage, Keegan said. He and Michigan left tackle Ryan Hayes have been playing next to each other for years. When Harbaugh says this year's line could be better, Keegan said, he understands why.
"I 100 percent agree with that. When you play with someone so long, you jell," the Michigan lineman said. "You know what you're doing … know the signals, know the calls. Once you jell, you go through a whole camp and spring ball, you basically know the person running next to you, his every move. It makes it easy. 
"But there's no complacency. We had a really good year …  worked our tails off last year, and we'll just continue to do that. We know what we did last year, and now we just have to take that extra step to get to the college football playoff again, win a national championship."
That means even better offense. Keegan isn't certain what it will look like, but he expects it to be better. 
"Everybody is saying 'more dynamic.' Talking to [quarterback] Cade [McNamara] I was like, 'I don't even know what that means, to be honest with you,'" he said with a laugh. "He said, 'just get the ball in the hands of our athletes, get them in space.' I feel like we've been doing that in spring ball. It's been fun to watch."
And there's still plenty of motivation at Michigan, he said, even after last year's success. 
"Last year we were the hunter. I feel like that's our mentality still," he said. "We're Michigan. Everybody is going to want to hunt us."
But they'll be ready, he assured, come Sept. 3 and the opener with Colorado State.