Wolverine TV: Michigan coach Jim Harbaugh speaks from event at Genesee County Jail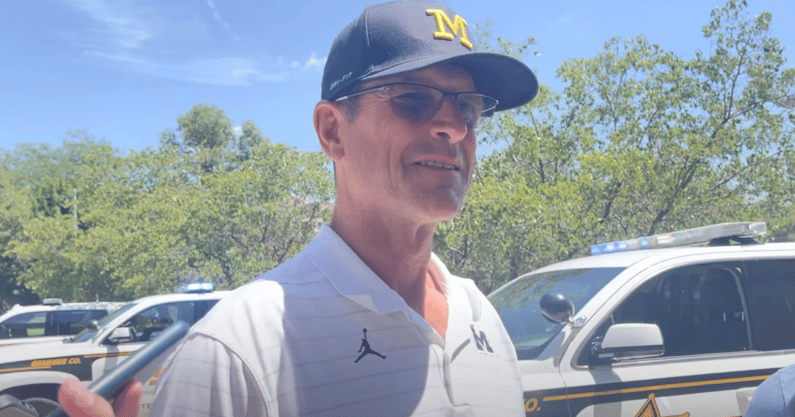 Michigan Wolverines football head coach Jim Harbaugh met with reporters after his team's event at the Genesee County Jail. He discussed the day's events, which included serving inmates meals, as his team's trip across the state kicked off. Sheriff Christopher R. Swanson also spoke to media.
RELATED
• Wolverine TV: Jim Harbaugh, Genesee County sheriff speak to Michigan football team at Flint event
• Why Phil Steele rated Michigan offensive line college football's best once again
• Michigan football: Pass rush faces uncertainty, but future appears bright
Harbaugh and Co. partnered with Swanson's IGNITE program that educates the incarcerated and prepares them for a return to society.
Elsewhere in the Flint area, Michigan players and coaches painted a mural, stuff backpacks and create care packages with 60 Boys and Girls Club students on their first stop. Others volunteered alongside 60 students on various outdoor beautification projects, and 15 — including Harbaugh — engaged with the IGNITE program and serve lunch to the residents of the Genessee County Jail.
Later in the day, 120 players and coaches along with the United Way and Randy Wise Automotive Team will host a carnival for 160 elementary/middle school students from the Boys and Girls Club and Flint International Academy. Students will be treated to food, bounce houses, games, and Michigan Football personnel in dunk tanks. 
The Wolverines will then make their way around the state from west to north with several stops at some of the top tourist destinations in the state. Harbaugh said this spring he wanted to introduce his players to some of the best the state had to offer.
"Harbaugh believes that not all learning is done in a classroom, and that these trips serve not only to educate the players about the customs and lifestyles of other cultures and areas but also provide the opportunity to give back to those local areas," spokesmen for the program said in a release. "Michigan football wants to be ambassadors to communities across Michigan and around the world."
Past trips have included Rome, France and South Africa.
Though details haven't been released to the public, Harbaugh mentioned Sault Ste. Marie, Pictured Rocks, and Tahquamenon Falls in the Upper Peninsula, Sleeping Bear Dunes, Traverse City and other destinations as possibilities this spring.
Four Michigan players — quarterback Cade McNamara, tight end Erick All, defensive tackle Mazi Smith, and cornerback DJ Turner — will travel with Harbaugh to Indianapolis July 26 for Big Ten Media Day in Indianapolis before rejoining the team for its travels.