In new NIL partnership with Altius, Penn State takes another step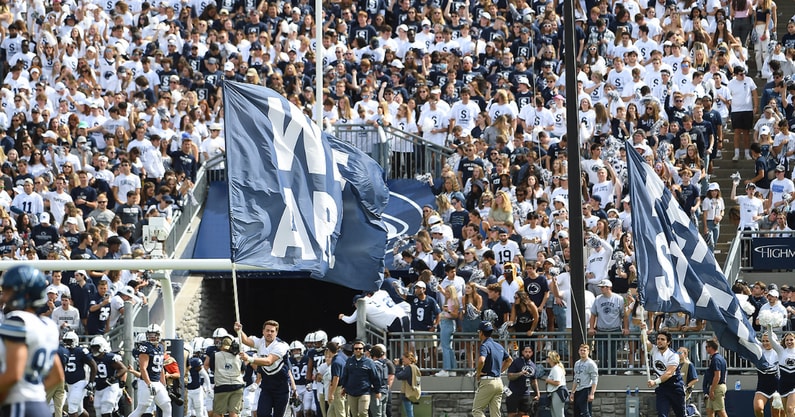 Penn State has taken another step in its NIL evolution.
Announced Tuesday morning, Penn State Intercollegiate Athletics has signed on with Altius Sports Partners to "bolster" the department's "comprehensive NIL program."
"We are looking forward to partnering with industry leader Altius Sports Partners in our name, image, and likeness (NIL) programming," Penn State athletic director Sandy Barbour said. "They have a talented and experienced team with a vast understanding and knowledge of the NIL landscape. We know the education Altius will provide to our stakeholders will help everyone navigate these evolving NIL waters."
Signaling its intent to make education and entrepreneurship the foundations of its approach from the onset of legalized name, image, and likeness last July, Penn State's partnership with Altius furthers those aims. 
It does so beyond the scope of the many student-athletes eligible to profit under the new rules, though.
Effectively serving as an outside advisor who can take the national temperature on NIL and its rapidly shifting landscape, and create guidance from it, Altius stands to help shape Penn State's approach on the matter, and more.
The firm is already doing so with major players in college athletics including Arizona, Duke, Georgia, Indiana, LSU, Mississippi State, Northwestern, North Carolina, Oklahoma, Oklahoma State, Oregon State, Purdue, South Carolina, Southern Cal, Tennessee, Texas, Villanova, Virginia, and Washington. 
"We are thrilled to partner with the Nittany Lions to collaboratively implement a comprehensive NIL strategy that supports all Penn State stakeholders," said Andrew Donovan, VP of Collegiate Partnerships for Altius, "and, most importantly, positions Penn State athletes to effectively and responsibly maximize their opportunities on and off the field."
Providing education, guidance on NIL
In surveying the services provided by Altius, however, clients are largely relying on the firm's guidance for not just what's happening now, but also what's going to happen in the future.
In an interview with On3 NIL expert Eric Prisbell last month, Casey Schwab, the Founding Partner and CEO of Altius, offered a glimpse into what college athletic departments will be confronting in the coming years. Among those realities, Schwab said, is a future that includes at least some "smaller subset of student-athletes" who will be considered employees of their universities.
From the story:
Asked to characterize the collective sentiment among athletic directors, Schwab paused before choosing three words: "Pessimistic, reluctant acceptance. It's not a positive feeling. It's, 'This is going to happen. We get it. This isn't going to be good for the schools. It's not going to be good for the athletes.' " 
Now partnered with Altius, Penn State has positioned itself to be better prepared for those potentially monumental changes.
Beyond just NIL, could student-athletes position themselves for a cut of media rights deals? With which group would student-athletes negotiate? How broadly would employee status shift the relationship between universities and student-athletes?
In a separate story with Front Office Sports in December, Schwab detailed why universities are taking a proactive approach.
With all these forces at play, Schwab emphasized that "hope is not a strategy" when it comes to how schools prepare for the future of college sports. 
"This is what athletics directors, commissioners, [and] presidents should be sitting down and planning out – what this world will look like."
Penn State's next NIL steps
The announcement of Penn State's partnership with Altius comes on the heels of the football program's most forward conversation yet regarding NIL.
Joining Steve Jones for the Penn State Coaches Show last week, Penn State staffers explained to fans what's at stake. Urging fans to embrace NIL and the opportunity it represents to lift the Penn State football program on a broad scale, Andy Frank and Dann Kabala, also detailed the ramifications of not competing in the space.
"There are people that have jumped in already for us, and we need a whole lot more," Frank said of NIL collectives supporting Penn State. "It's the future and it's the present of college football and college athletics as a whole. I think that where we go from here is going to determine our course. 
"Penn Staters for forever have cared about a few things. And doing things the right way has always been a piece of our fabric. And doing it at the very, very best of our ability is also a part of who we are. Now we have an opportunity to support our players in a way that we haven't had in the past. It wasn't doing it the right way when people were doing things under the table. Unfortunately, it did happen. But now the landscape has changed and now we're able to do that. And I think we as a community should want to do that."