Recap: Penn State wrestling finishes NCAA Championships on top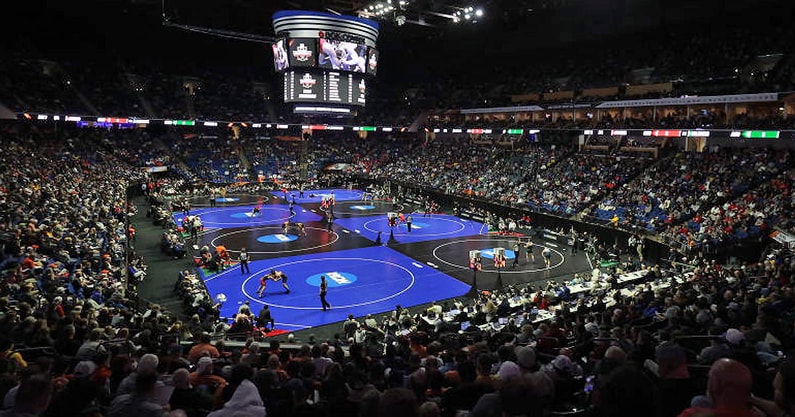 Penn State wrestling already won the 2023 NCAA Championship by the time the finals began. How did those play out? Read on.
Full finals rundown
We will list all of the finals matches below. They are in the order that they will be contested. The bolded matches feature a Penn State wrestler.
157 pounds: No. 1 Austin O'Connor, North Carolina vs. No. 2 Levi Haines, PSU
165 pounds: No. 1 David Carr, Iowa State vs. No. 2 Keegan O'Toole, Missouri.
174 pounds: No. 1 Carter Starocci, Penn State vs. No. 2 Mikey Labriola, Nebraska
184 pounds: No. 1 Parker Keckeisen, Northern Iowa vs. No. 3 Aaron Brooks, PSU
197 pounds: No. 1 Nino Bonaccorsi, Pitt vs. No. 7 Tanner Sloan, South Dakota State
285 pounds: No. 1 Mason Parris, Michigan vs. No. 3 Greg Kerkvliet, Penn State
125 pounds: No. 4 Matt Ramos, Purdue vs. No. 2 Patrick Glory, Princeton
133 pounds: No. 1 Roman Bravo-Young, Penn State vs. No. 3 Vito Arujau, Cornell
141 pounds: No. 1 Real Woods, Iowa vs. No. 2 Andrew Alirez, Northern Colorado
149 pounds: No. 1 Yianni Diakomihalis, Cornell vs. No. 2 Sammy Sasso, Ohio State
Rolling updates from the finals of the 2023 NCAA Championships
Important note: This page does not update automatically. Please refresh it frequently to see the latest updates.
9:21 — A shocking end to Penn State's run at the NCAA Championships: Vito Arujau of Cornell upsets Roman Bravo-Young by decision, 10-4. The Nittany Lions' tournament is over.
8:48 — Greg Kerklviet is a runner up at heavyweight. He drops a 5-1 decision to top-seeded Mason Parris of Michigan.
8:34 — Greg Kerkvliet is about to start his heavyweight final match against Mason Parris, the No. 1 seed, of Michigan.
8:22 — Nino Bonaccorsi of Pitt is an NCAA champion. He tops Tanner Sloan of South Dakota State 5-3 at 197 pounds. Greg Kerkvliet is up next at heavyweight.
8:07 — Aaron Brooks is a national champion again. The three-seed, he beat top-seeded Parker Keckeisen 7-2 to win a title at 184 pounds.
7:49 — Carter Starocci is a three-time national champion. He pinned Mike Labriola of Nebraska after catching him on a roll through in 2:46 at 174 pounds.
7:40 — Carter Starocci is up next.
7:19 — Levi Haines' fantastic freshman season ends with a loss in the finals. Austin O'Connor wins 6-2 with over two minutes in riding time. But, the Penn State freshman is a runner-up and All-American in year one at 157 pounds.
7:06: Levi Haines is taking the mat now against Austin O'Connor of North Carolina.
This space will be updated once the first bout is underway. Levi Haines will be the first Lion on the mat. We'd expect that to be around 7:05 p.m. ET. But, check back often for updates.