Year one at Penn State a success for transfer Chop Robinson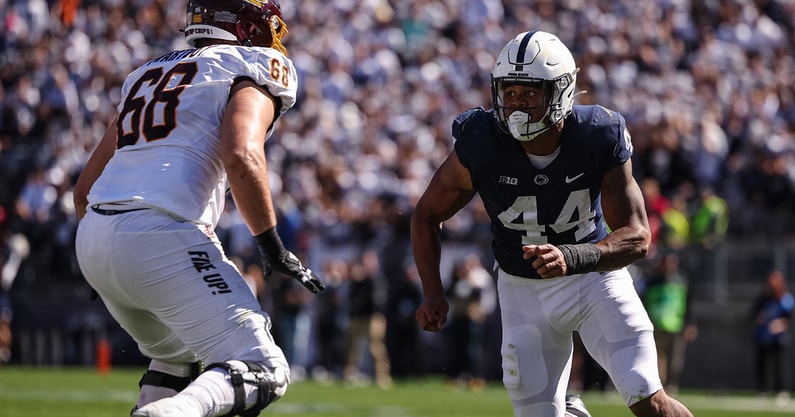 Penn State hit the portal last offseason hoping to replicate the success it had the year prior with pass rusher Arnold Ebiketie. The follow-up act, former Maryland defensive end Chop Robinson, is well on its way to being a hit as well.
The best part? The rising junior acclimated quickly to Happy Valley and his sights are set on the future. 
"I'm super happy," Robinson said after the Rose Bowl, "I'm like a kid on Christmas." 
Robinson finished second on the Penn State defense in sacks in his initial season with 5.5 in 2022. He added 10 tackles for loss and he was the Nittany Lions' most effective pass rusher in the win over Utah a few weeks ago. 
Robinson arrived at Penn State from Maryland last June
He was quick to endear himself to teammates upon his arrival last June. Many knew Robinson from the recruiting scene, when he was a Top100 consensus product out of Quince Orchard High School in Gaithersburg, Md. Robinson considered the Nittany Lions out of high school but picked the Terps for his initial season. 
"When you bring a guy into the room, every guy in that room needs to be happy and know why that guy is there," Defensive coordinator Manny Diaz told BWI. "Most players want to win, and yes, we're going to play the best players and I think we showed that this year. You see that with Chop and the role that he played on our defense.
"But the players had to understand why we needed Chop. It wasn't just because it was a luxury or whatever. Everyone saw that for us to be great, we needed help on the edge." 
Robinson was the team's Defensive Player of the Week internally against Ohio and picked up his first sack during Penn State's romp of Auburn a week later. He finished the season as the nation's top-graded edge rusher in Pro Football Focus' rankings and led the Nittany Lions in pressures in the process. 
"He came off the edge like I've never seen before," said former Nittany Lions defensive tackle PJ Mustipher. "Playing with AK [Ebiketie], you knew he was capable of changing the game at any point and I think that's what Chop can do.
"He fits like a glove. Hats off to our coaches because they bring in some phenomenal guys. They're able to come in like another piece of the puzzle and fit in right away." 
Robinson has high hopes for next season
Robinson earned All-Big Ten honorable mention from the coaches and media in his first season in Happy Valley. He was named the team's Outstanding Defensive Lineman along with Adisa Isaac in the postseason and he hopes to take that to another level in 2023. 
"If I take everything that my coaches told me, especially Deion [Barnes], with being consistent and all those things, I think I'll be set up great for next season," said Robinson. 
"With my development, that played a big part this season. I was able to work on and figure out things that I never figured out at my previous college. I'm glad I'm here. That's my main focus right now. I'm happy."