Five-star+ QB and USC Commit Malachi Nelson makes it to Texas A&M for surprise visit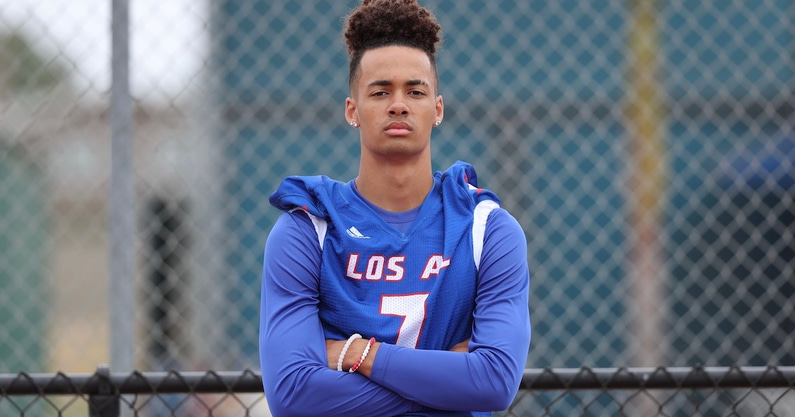 Massive news hit late Thursday night as AggieScoop confirmed that five-star+ quarterback and USC commit, Malachi Nelson, is in College Station for a surprise unofficial visit to Texas A&M.
AggieScoop's Tim Verghese gave some background info and context on the visit and how it came to be.
"Texas A&M had quietly been in contact with the five-star in recent weeks. At first, the intel I had heard was "he's at least picking up the phone," as the weekend got closer, the buzz started to heat up that the five-star was planning to visit College Station. Had to hold off on reporting the news until he officially arrived as of around 11:00 PM CST last night, the five-star touched down in Aggieland."
While not much info is available at this time, the fact is, Nelson is visiting and Texas A&M will get a crack at making their best pitch for him.
That being said, after talking to some sources, don't expect Las Vegas (Nev.) Bishop Gorman five-star wide receiver Zachariah Branch or Nelson's teammate and fellow USC four-star wideout commit Makai Lemon to make it down to Texas A&M this weekend.
Malachi Nelson is the No. 2 quarterback prospect and the No. 2 overall prospect in the country, per the On3 Consensus. He is a five-star+ prospect, which means he is a unanimous five-star prospect among the four major recruiting services.
AggieScoop will have more updates throughout the weekend on visitors attending Texas A&M.
Malachi Nelson On3 Scouting Summary
Quick-armed, accurate passer with strong functional movement skills. Considered one of the more talented quarterback prospects in high school football dating back to his early high school career. A natural, nuanced passer with a quick release. Shows some aggressive tendencies in throwing downfield. Has touch with the ability to layer his throws. Accurate with good ball placement dating back to his sophomore spring season which was shortened due to COVID-19. Good arm strength, which could improve with overall strength progression.
Adept at running the quick game out of spread looks, flipping the ball out quick to the boundary. Loose and fluid in his movements. Plays with bouncy footwork and lower body twitch. Looks to pass first, but has good burst as a runner with the ability to run zone read or pick up yards when the play breaks down. Plays at a relaxed pace and typically seems unbothered in the pocket. Has a lean, streamline frame and will need to continue adding mass. Throwing to two blue-chip receivers in fellow 2023 Oklahoma commits, Makai Lemon and Deandre Moore, Jr.