Nick Saban gives passionate answer to 'competitive fire' question after loss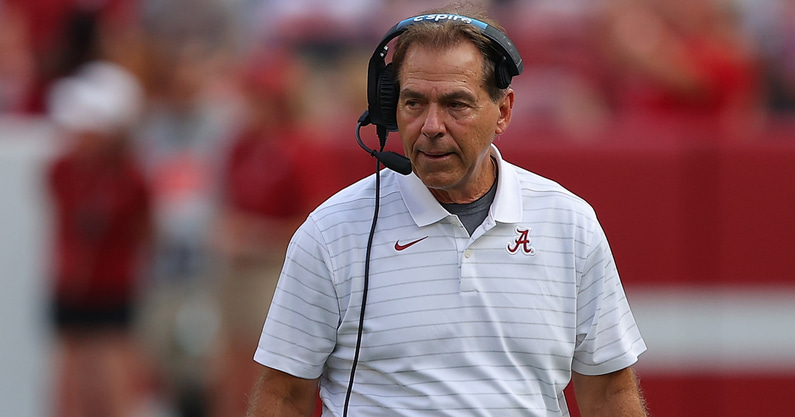 Nick Saban knows a thing about the "competitive fire" needed to thrive in today's college football landscape.
Since taking over the Alabama football program in 2007, Saban boasts a record of (175-26) that includes 19 bowl game appearances with 14 victories, eight SEC West titles, seven SEC championships, and six national championship.
Just days removed from the stunning loss to an unranked SEC rival, Saban was asked directly about the competitive fire needed at all times to win consistently.
"I've always got competitive fire because I respect what it takes to win, I respect what it takes to prepare to win," Saban said emphatically. "I try to do it every week and I try to get the players to respond to it each and every week so they have the best chance to create value for themselves when they go out and play."
"And when players don't play well, they don't create value for themselves and they don't create value for the team," Saban added.
Saban shares his definition of a great competitor
Saban is widely regarded as the top minds college football has to offer so when he shares how he defines a truly great competitor, it's safe to assume he's the right man to listen to.
"What defines great competitors is when people can be their best when their best is needed." Saban said. "I think people are always evaluating and looking at that. That is something I am always trying to help the players try to do."
Nick Saban continued by describing the traits vital to succeed in the toughest competitive situations.
"In terms of the intensity that you have and the focus you need in able to go out there and compete against good players in tough environments. That is as difficult of a competitive situation as you are going to be in."
Though he wasn't asked specifically about if his team lacked a competitive edge in the Texas A&M loss, the Crimson Tide coach reverted to Saturday's loss when identifying the starting point for any team to be consistent.
"We made too many mental errors, we didn't tackle well in the game and I think all that starts with your mindset," Saban said.
Nick Saban is a perfectionist for preparation
Nick Saban may be known for short answers, especially when his team is playing its best.
An upset loss to an unranked SEC rival where mainstream Alabama media like Paul Finebaum shredded the entire coaching staff?
That was enough to pull the curtain back– and on the same long response to the initial question about how to regain that "competitive fire," the Crimson Tide frontman took accountability.
"I have pride in performance too," Saban shared. "Not just for the defense," a unit Finebaum referred to as "discraceful" after the loss.
"But for the whole team," The Alabama coach continued.
"And it's very upsetting to me when the team doesn't play well because I feel like it's my responsibility," Saban reiterated. "And I should be affecting people — I'm talking about players, coaches and people in the organization in a way so that our team is well-prepared so they can go out there and play well.
"I'm kind of a perfectionist when it comes to that, and it's really really tough when you don't feel like you got things done the way you would have liked them to be done."
It's clear while Nick Saban began the answer to the question focused on the players not having the right mindset and focus to compete at the level the Aggies did, the Tide coach ultimately knows the end result falls on him.