Freshman running back Will Shipley has impressed Dabo Swinney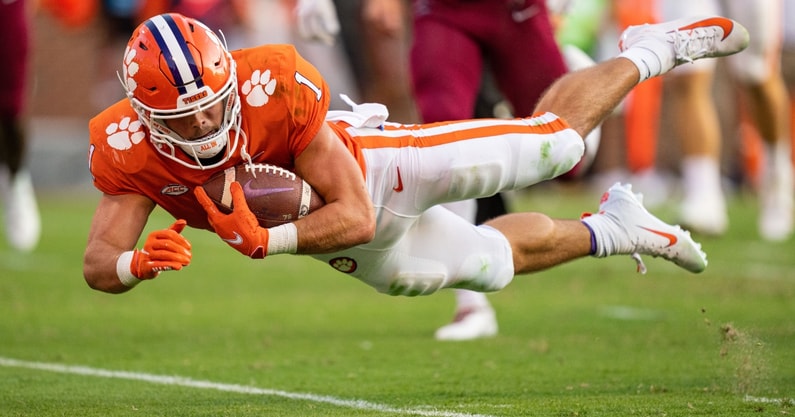 Running back Will Shipley appears set to be a star player on Clemson's offense very soon. That's at least what Clemson head coach Dabo Swinney thinks. Shipley is a former highly touted recruit and is now emerging as a valuable weapon out of the Tigers' backfield. Swinney has high hopes for Shipley as he grows more comfortable in the offense.
Swinney: Shipley will be a great running back
As a former five-star prospect according to 247Sports, Shipley came to Clemson as one of the top running back prospects in the nation and one of the top overall players out of North Carolina. Shipley played his high school football at Weddington High School in Weddington, North Carolina. In his three-year high school career, Shipley rushed for 4,173 yards on 503 carries, an impressive 8.3 yards per carry. He also had 1,411 receiving yards on 84 receptions and 80 total touchdowns in his high school career.
Shipley only saw four carries in week one with seven yards, and he caught one pass for 11 yards. In Clemson's 49-3 victory over South Carolina State in week two, Shipley flashes his great potential. In the win, Shipley had eight carries for 80 yards and two touchdowns. He also averaged 23.5 yards on two kick returns, another area that Swinney sees Shipley excelling at. Clemson is ranked No. 6 in the latest AP Top 25 Poll, and Clemson's offense is expected to be one of the nation's best this season.
"He's great. I mean he didn't get a whole lot of opportunity last week," Swinney said of Shipley. "I love having him back there at kick return. Sooner or later, he's going to bust one. I love just his passion for the game, his toughness. He is relentless. Every time he gets it, he runs the ball like his life depends on it. That's just how he plays the game. As the game continues to slow down for him and he gets more and more experience, he's going to be a great running back. There's no doubt about it."
Shipley might have leaped Clemson's expected starting RB
Coming into the season, Lyn-J Dixon was supposed to lead Clemson's backfield. Against South Carolina State, Dixon only had four carries. On the season, he only has five touches. Swinney did not hold back when asked about Dixon, saying that he needs to stay out of Clemson running back coach CJ Spiller's doghouse.
"He just needs to grow up," Swinney said. "It's that simple. He needs to be a team player. Just grow up. He's a very good player, obviously he's very talented, we've seen that. But just need him to stay out of Spiller's doghouse, that's really it."
As Shipley continues to grow more comfortable in the running back room, he could quickly take over the lead back job for Clemson.