AP Top-25 poll following Week 2 released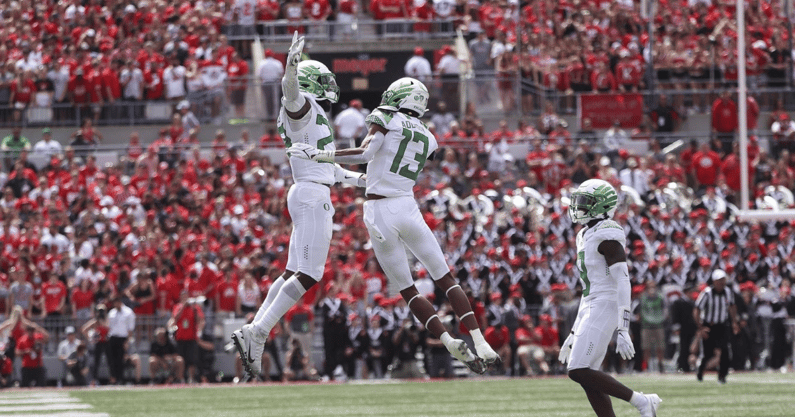 Oregon made sure there would be changes in Week Two of the AP Poll. The Ducks traveled halfway across the country to Columbus, Ohio, in the second week of the college football season and announced the Pac-12 could produce a legitimate College Football Playoff contender.
Going toe-to-toe against No. 3 Ohio State, Oregon used a dominant rushing attack to hand the Buckeyes their first loss at Ohio Stadium since 2017. It marked the first regular-season loss of the Ryan Day tenure, too.
But that wasn't the only upset in the top-25 in Week Two. Arkansas routed archrival No. 15 Texas in Fayetteville, delivering the signature win of the Sam Pitt era thus far. Stanford knocked off No. 14 USC, too, marking another questionable loss for Clay Helton. No. 22 Miami held on to beat Appalachian State 25-23.
No. 21 Utah did not make it through the Holy War unscathed, either. BYU squeaked out a 26-17 win, led by quarterback Jaren Hall's three touchdown passes.
The Big Ten didn't completely dissapoint this weekend, though. No. 9 Iowa made a statement, winning the Cy-Hawk game against No. 10 Iowa State. More importantly for the Hawkeyes, the Big Ten looks winnable for the first time in four seasons. Ohio State might have a challenger in the East Division, too, as Michigan picked up a 31-10 win over Washington. The Wolverines defense was ferocious, allowing just 50 rushing yards.
While Alabama, Georgia, Clemson, Oklahoma and Cincinnati all cruised to easy wins, while Texas A&M and Notre Dame both struggled. The Aggies lost their starting quarterback, Haynes King, early in the first quarter. And it took a late touchdown to escape Colorado with a win.
Meanwhile, the Fighting Irish never had breathing room against Toledo. A score with just over a minute to play gave them the lead and they forced a fumble on the ensuing Toledo drive.
The AP Poll voters have voted. Here is where the top-25 stands after the some major movement over the weekend. 
The full AP Poll can be found below.
AP Poll (Sept. 12)
No. 1 Alabama Crimson Tide (2-0) (60)
No. 2 Georgia Bulldogs (2-0) (3)
No. 3 Oklahoma Sooners (2-0)
No. 4 Oregon Ducks (2-0)
No. 5 Iowa Hawkeyes (2-0)
No. 6  Clemson Tigers (1-1)
No. 7 Texas A&M (2-0)
No. 8 Cincinnati Bearcats (2-0)
No. 9 Ohio State Buckeyes (1-1)
No. 10 Penn State Nittany Lions (2-0)
No. 11 Florida Gators (2-0)
No. 12 Notre Dame Fighting Irish (2-0)
No. 13 UCLA Bruins (2-0)
No. 14 Iowa State Cyclones (1-1)
No. 15 Virginia Tech Hokies (2-0)
No. 16 Coastal Carolina Chanticleers (2-0)
No. 17 Ole Miss Rebels (2-0)
No. 18 Wisconsin Badgers (1-1)
No. 19 Arizona State (2-0)
No. 20 Arkansas Razorbacks (2-0)
No. 21 North Carolina Tar Heels (1-1)
No. 22 Auburn Tigers (2-0)
No. 23 BYU Cougars (2-0)
No. 24 Miami Hurricanes (1-1)
No. 25 Michigan Wolverines (2-0)
Three AP top-25 matchups headline Week 3
Two AP top-25 matchups highlight the slate in Week Three. No. 1 Alabama travels to No. 11 Florida, while No. 22 Auburn heads to Happy Valley to take on No. 10 Penn State. No. 23 BYU hosts No. 19 Arizona State, too.
The Gators have a quarterback controversy on their hands with Emory Jones and Anthony Richardson. Alabama looks fully primed to make another run at an SEC title, but if Florida wants to have any chance, this is the week to do it.
For Penn State, with the Ohio State loss, the Nittany Lions have an opening to make a run at the College Football Playoff. A huge resume booster could be a win over SEC-foe Auburn.