Dabo Swinney explains why inducements are the real problem with NIL, transfer portal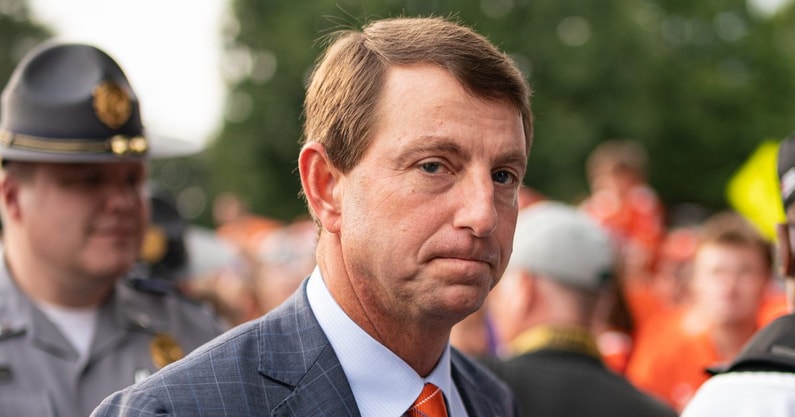 College football just went through its first offseason with the new rules on NIL and the transfer portal, and it was a wild one, to say the least. Clemson Tigers head coach Dabo Swinney has not been too fond of the lack of regulation surrounding the transfer portal and the use of NIL compensation for players. In his eyes, there are a lot of sneaky and underhanded practices that are happening throughout the college landscape, one of which is inducements. And during a recent interview, he explained why that is the real problem.
"Well, there's no doubt about that. The people in the business, we saw that coming a mile away. But again, the intentions are good. And I think the intentions and what needed to happen to outweigh the negative consequences that have come from it," said Swinney. "But yeah, it's got to be addressed because these are young people. And when you have people making decisions based on one thing, it usually is not a great result.
"So it's not intended as a recruiting inducement; it's not. And then you throw in the bigger issue, tampering with the transfer portal, and tie into that. That's the number one issue because there's no barrier. So you got a lot of pressure on a lot of people to win today; win right now. And there are quick fixes. There's not many people going into the portal without a plan, so how did they get a plan?"
CLICK HERE to subscribe for FREE to the On3 YouTube channel
There's still a lot that needs to be figured out about the transfer portal and the use of NIL. Swinney is bringing light to the issues that could potentially harm the fabric of the game he loves. And if nothing is done soon, the transfer portal and NIL problems will only get bigger.
Swinney compares Cade Klubnik's situation to DJ Uiagalelei and Trevor Lawrence
Swinney has become familiar with quarterback duos during his time at Clemson. Just a few seasons ago it was DJ Uiagalelei waiting for the keys to the offense from Trevor Lawrence. Now, Cade Klubnik has taken Uiagalelei's place as next in line.
With Klubnik on standby, Swinney was asked when, how much, or if we could expect to see him this fall. He says it'll be similar to Uiagalelei's situation with Lawrence, where he had to wait his turn and pick his spots during the course of a game and season.
"I think it's more like DJ and Trevor. That's kinda how I see it. I think just like when DJ came in here, we wanted to get him as much opportunity as we could as much as we could within the flow of a game and the flow of the season," said Swinney. "That's what we did and he obviously ended up having to start a couple games. I see the same situation. DJ is the starter and we want to certainly get Cade as many opportunities as we can to play."