Las Vegas sets Florida State win total at 7.5 odds for 2022 season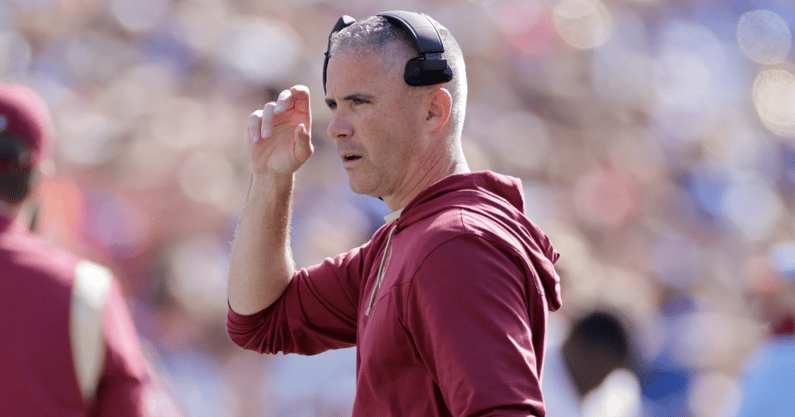 Some of college football's biggest programs have struggled in recent years and Florida State has been a prime example. The last winning season in Tallahassee came in 2017 and even so, a bowl win was required to accomplish the feat. However, head coach Mike Norvell is hoping to have the Seminoles back on the right track and is primed for a big 2022 season.
VegasInsider has dropped win total numbers and for Florida State, they currently sit at 7.5. If the Seminoles can pull it off and hit the over, it would be a new high for the program under Norvell, who currently only has eight career wins with the Seminoles.
A few other programs with the same win total include Arkansas, in-state rival Florida, LSU, Nebraska, and North Carolina. Comparatively speaking, expectations are higher for Florida State than they have been in years past, especially with the ACC still being considered a weak conference.
After opening the season during Week 0, the Seminoles will have their big nonconference matchup against LSU in New Orleans. ESPN recently announced the matchup will be broadcasted by ABC on Sept. 4, with kickoff scheduled for 7:30 ET. Of course, the other non-ACC showdown will be against the Gators to close out the season. Two quality SEC opponents for Florida State serving as bookends for the year.
As far as the ACC goes, Clemson will be the biggest home opponent for Norvell, looking to beat the Tigers for the first time since 2014. Another in-state rivalry with Miami will take place on the road this year, as the Seminoles look to have back-to-back wins in the series.
Florida State HC Mike Norvell details tampering the program dealt with
Accusations of tampering have been rampant throughout this college football offseason, and Florida State is one of many schools impacted. Seminoles coach Mike Norvell made an appearance on the ACC Network's Packer and Durham show Tuesday morning, where he detailed tampering attempts from other schools against his own players.
"We had conversations, there were a couple guys on our team that have had people from the outside talking," Norvell explained. "They were not in the portal, but they're trying to make decisions on certain things for their future. That's what's unfortunate. But grateful for the guys we have and the team that we're going to be able to move forward with. But for college athletics, we want to be together here moving forward."
Norvell did not mention any specific Florida State players who received offers from other schools as a result of the alleged tampering.