FSU formally announces addition of former South Carolina transfer Jazston Turnetine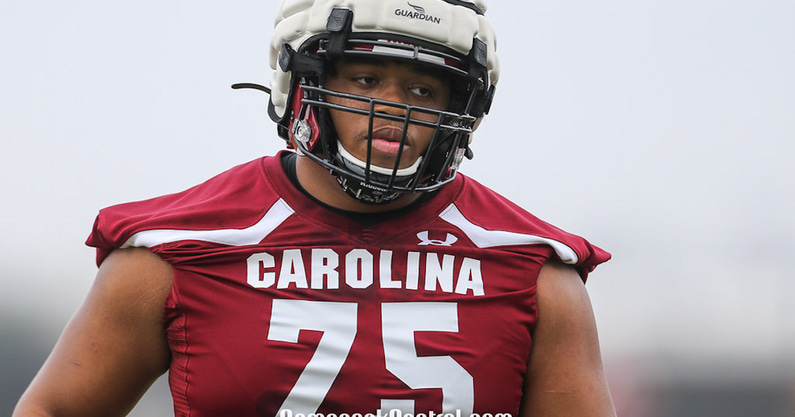 South Carolina transfer offensive tackle Jazston Turnetine recently announced he was down to two schools — Florida State and Michigan State. His decision was made official on Tuesday, with the Seminoles formally announcing the addition of Turnetine to their program.
"Jazston has tremendous size with great power and athleticism," head coach Mike Norvell said. "His starting experience in big games and his skillset immediately increases the competition among our offensive line group.
During the 2021 season, Turnetine was considered a "fifth-year Super Senior" and made seven starts for the Gamecocks. He spent the year at left tackle and will be hoping to play a similar role for Florida State.
Turnetine previously spent time at Hutchinson Community College, playing there for three seasons. Now, he will be playing for his third different program in as many years. The transfer portal has been kind to Turnetine as he continues his college football career.
Florida State announces new Voice of the Seminoles
Following the retirement of longtime announcer Gene Deckerhoff, Florida State has a new Voice of the Seminoles. LEARFIELD's Seminole Sports Properties hired Jeff Culhane as the new director of broadcasting and voice of Seminoles football and basketball.
"Jeff Culhane is an exciting hire for our department and fans," AD Michael Alford said. "He is a talented, experienced play-by-play voice who has called many postseason games across multiple sports while also creating content for the programs he has worked with and their affiliate radio networks. This position attracted nationwide interest, and Jeff's unique abilities continued to rise to the top. I look forward to how Jeff will help tell the stories of our student-athletes, coaches and department through this expanded role."
"It is truly an honor to be named play-by-play voice for the Florida State Seminoles," Culhane said. "To follow in the footsteps of a legend like Gene Deckerhoff is an opportunity and a challenge I will look to live up to every single day. My family and I can't wait to get to Tallahassee and immerse ourselves in all the traditions of Florida State. Go Noles!"
Culhane begins his new role on July 1 and he will call his first FSU game on Aug. 27 – the football team's season opener against Duquesne.
Former Voice of the Seminoles, Gene Deckerhoff retired after 43 years on the mic this spring.