Elite safety Joenel Aguero is ready to be a part of the Georgia program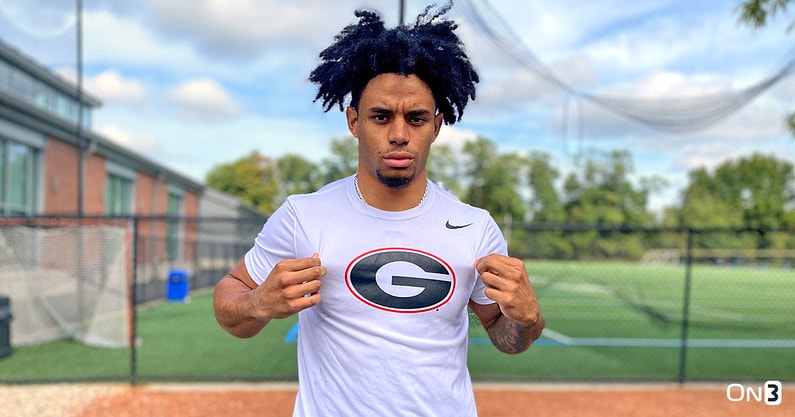 DANVERS, Mass. – Top-50 recruit Joenel Aguero committed to Georgia in July. The four-star safety out of St. John's Prep committed to the Bulldogs over Florida, Miami, Ohio State, and others.
The 5-foot-11, 191-pound playmaker has not been back to Athens since he committed. He will be back for the Auburn game next weekend, then return for the Tennessee game in November. So far this season, Aguero has watched Georgia on T.V. and he likes what he sees.
"I see the same type of team in Georgia this season that they had last season," Aguero told On3. "They won the national championship and lost a lot (15) players to the NFL Draft, but the defense still plays hard. They fly around, they hit people, and they play just like the defense played last season.
"The offense has gotten better too. Stetson Bennett looks more comfortable, they are putting up big numbers, and even though a lot of players got drafted, Georgia is still Georgia. They are still dominating."
Georiga is 4-0 and ranked No. 1 in the country. The Bulldogs travel to Missouri this weekend.
Aguero is watching the Georgia defense closely
Georgia's defense was drawing praise week after week last season, and rightfully so. Some called it a "historic defense" and none expected Georgia to be near the same level in 2022. It is off to a good start just giving up an average of 8 points per game this season.
"The Georgia defense has everything," Aguero said. "They play with speed, physicality, and toughness. Georgia has the best defense and the hardest defense in the country. There are new players in there, but the coaches prepare the team, and they are always ready.
The No. 44 prospect in the On300 can't wait to be a part of the Georgia defense.
"I fit into it perfectly. That is one of the reasons I chose Georgia. How I play, my style, and what I bring to the field fits perfectly into what Georgia does as a defense. They are going to use me well, I will fit in well, and I know the coaches will get me in the right spot."
Will Muschamp is Aguero's lead recruiter. The defensive coordinator has a plan in place for when he arrives in Athens.
"Coach Muschamp is my guy. He wants to use me the same way Georgia used Lewis Cine. We have a lot of similarities and coach Muschamp thinks I can slide right in and be that guy. We are both physical, we play fast, and it is going to be fun to play that type of role in Georgia's defense."
Georgia checks all the boxes for Aguero
His decision was tough. The No. 4 safety in the country took his visits. Numerous schools gave Aguero a lot to think about it. But Georgia pulled ahead last year, held off others, and Aguero couldn't be happier about his decision.
"I love everything about Georgia," Aguero said. "From the way they develop players to how the coaches push their players, Georgia is right for me. I love Kirby Smart too. His energy. His passion. Everyone feels that. Him, Muschamp, Fran Brown… all the Georgia coaches are right for me.
"Then I get to compete with great players every day at Georgia. I want that. I want to be around those four-stars and five-stars that make me better. Georgia is going to make me so much better. From the coaches to the players to the practices to the games – I will be the best I can be. I will have to push, work, and grind every day to play at Georgia and I am excited about that."
There have been a few calls or text messages since he committed, but Aguero is not even thinking about another school.
"I am 1000% locked in with Georgia. I am not looking or going anywhere. Since committing to Georgia, there is no more stress on me. I am enjoying everything and things have been great since committing.
"I will be back for the Auburn and Tennessee games, so I can't wait to get back to Athens as a commitment. Then it is only three months until I will be there as a student. I can't wait to get there in January."
Now Aguero is recruiting for Georgia
Aguero is active in talking to numerous recruits that are on Georgia's board, but the one he is recruiting hardest is five-star EDGE Samuel M'Pbemba. The two played together at IMG Academy before Aguero decided to transfer back home for his senior year.
That relationship is strong and Aguero wants to reunite with M'Pemba in Athens.
"Me and Sam are good friends from our time together at IMG Academy," Aguero said. "He is a guy I am really working on right now. I tell Sam, if you want to get developed, play for the best coaches in college football, and be prepared for the NFL, then you come to Georgia.
"I tell him not to worry about all that other stuff out there. If you want to be the best, you come to Georgia. It is not for everyone. You have to be a dog to play there. But Sam is one I really want."