LOOK: Georgia tight end Brock Bowers signs NIL deal with fast food chain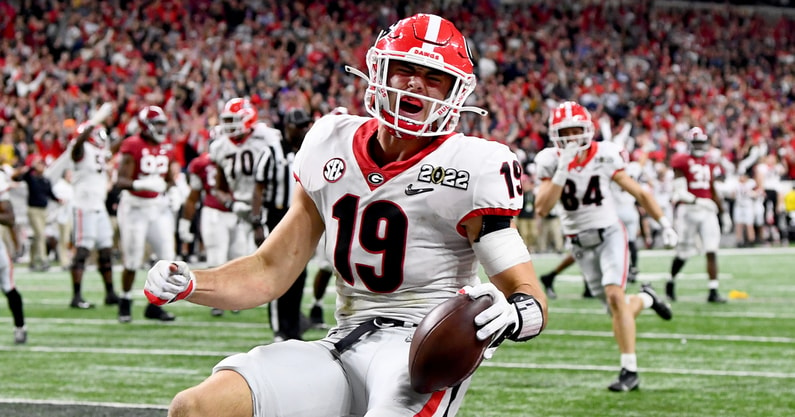 Georgia tight end Brock Bowers has landed an NIL deal with Zaxby's, he announced Wednesday via Twitter. Bowers posted a photo of himself wearing a Georgia polo and standing outside of a Zaxby's restaurant holding a chicken sandwich in his hand.
"I couldn't be more excited to team up with Zaxby's this year," he wrote in his tweet. "From charity events to community fundraising, Zaxby's shares my passion for making a lasting impact on the lives of our community. Plus, the chicken is fire."
Specializing in chicken, Zaxby's was founded in 1990 in Statesboro, Georgia, and its current headquarters are located in Athens. Since then, it has expanded to more than 900 locations across the Southern United States and even created its own signature sauce.
Bowers is coming off of a spectacular freshman season at Georgia in which he finished with a team-high 882 yards receiving and a program-record 13 touchdown catches. He scored touchdowns in each of the final five games of the season, including the national championship victory against Alabama. The tight end was named the 2021 Freshman of the Year according to the Football Writers Association of America for his efforts.
With the Bulldogs clinging to a 19-18 lead in the fourth quarter of national title, Bowers scored a 15-yard touchdown with 3:33 remaining to give them positive momentum. That ended up being what they needed as they went on to a 33-18 victory. For his heroics, Bowers even earned the attention of Crimson Tide coach Nick Saban, who praised the freshman for his big year.
"I think this guy is one of the premier players in college football," Saban said. "I know he's just a freshman, but this guy's got great size, he's a good blocker, physical and he's tough," Saban said. "He's got wide receiver skills in every way, shape or form, which makes it difficult being a bigger guy for bigger guys to cover him and it makes it also difficult for smaller guys to cover him. So this guy is just a phenomenal football player all the way around."
As his NIL deal suggests, Brock Bowers figures to once again be a key piece of the Bulldogs passing attack in 2022. Fans can see him, along with the rest of the team, in action Saturday at the annual spring game in Athens.