Greg McElroy tabs Stetson Bennett as second best quarterback in SEC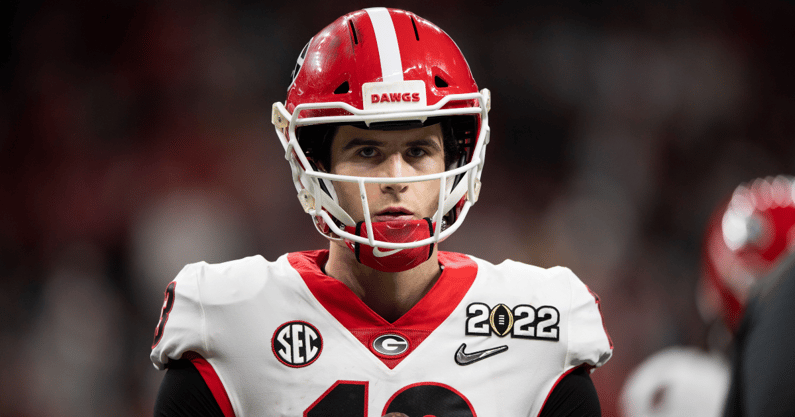 Search for a preseason ranking of the 14 SEC quarterbacks, and you're unlikely to find Stetson Bennett in many top fives. Despite leading the Georgia Bulldogs to a national championship this past season, Bennett enters 2022 relatively underappreciated.
But one person who isn't taking Bennett for granted is ESPN analyst Greg McElroy. On his show "Always College Football," McElroy stood up for the Bulldogs quarterback, calling him the second-best in the conference behind last year's Heisman winner Bryce Young.
"I love Stetson Bennett," McElroy said. "I think he's the second-best quarterback in the SEC. I know you at Tennessee will freak out when I say that. I know people at Florida will freak out when I say that. I know some people might think I'm absolutely nuts in Kentucky for saying that. Even Arkansas fans probably could make a case for their guy, KJ Jefferson, as one of the top quarterbacks in the SEC. Will Rogers at Mississippi State. All those guys are great. But if I can't have Bryce Young right now, give me Stetson Bennett."
Bennett has been overlooked throughout his entire college career. After walking on to Georgia in 2017, he later transferred to Louisiana before landing back in Athens by 2019 when he was finally offered a scholarship. He remained a backup over the next two seasons and once again entered behind JT Daniels in 2021. However, after Daniels suffered an injury in Week 2 against UAB, Bennett took over to tie a school record with five touchdown passes.
From there, the rest is history. Bennett continued to perform well and never relinquished the starting job as he threw for 2,862 yards, 29 touchdowns and seven interceptions. But even after all this and a national title, McElroy still sees not only the rest of the SEC, but even Stetson Bennett's own fanbase disrespecting him.
"There's only one quarterback in college football right now that is a starting quarterback of a national championship team," the ESPN analyst said. "That would be Stetson Bennett. I think he's the most underappreciated quarterback in America. When you're a quarterback at a big program, you often get way too much of the credit and way too much of the blame. Unfortunately for Stetson, I don't feel like he gets any of the credit. I love this young man. I've had to spend multiple nights talking to Georgia Bulldogs about, 'Man, when is Carson Beck gonna be the guy? When's Brock Vandagriff gonna be the guy?' Y'all, Stetson Bennett is the guy. Just watch him."
McElroy realizes the Bennett isn't the flashiest player in the world, but his real value is in the fact that he'll do whatever it takes to help his team. A great example of this came during a conversation McElroy had with Bulldogs coach Kirby Smart early last season.
"I remember talking to Kirby Smart last year when we called their game against Missouri. I was kind of asking him the same question that every Georgia fan was asking him: Why Stetson? He said, 'I don't know if you knew this, but he has more 20-yard runs than anyone on our team combined.' This was in like Week 5. And I never really thought about it that way. Sure enough, I went back and looked at the numbers and Stetson at that point in the season was their most explosive runner. That's a crazy thing to think about. But every single game there's a third-and-5, third-and-7, second-and-9 that he seems to get free, make a guy miss and falls forward to extend the drive. He always seems to keep you honest.
"….He's a great leader, he works his tail off, he's endeared himself to that entire locker room and in light of significant adversity on the biggest possible stage trying to deliver for his home state team in the fourth quarter of a national championship team. No one's won it for Georgia in the last 42 years and they've had some great quarterbacks that have come along the way. He delivered."
Stetson Bennett might not be high on the list of SEC quarterback to start 2022, but by the end of the season there should be no doubt about where he stands.