WATCH: Kirby Smart sounds off on rumors of other coaches tampering with players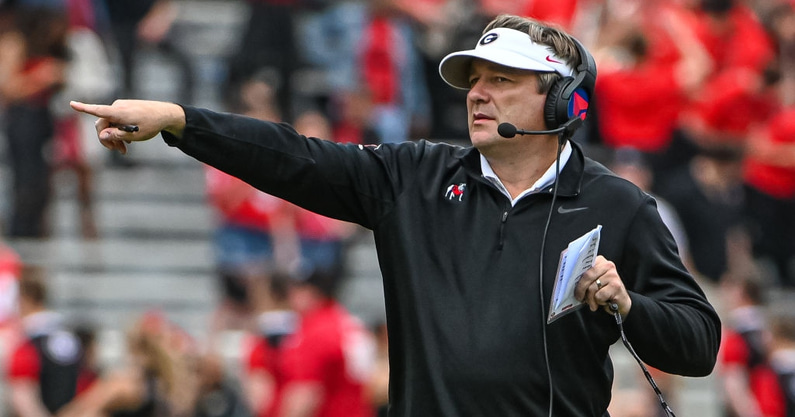 Georgia head coach Kirby Smart recently spoke on the Paul Finebaum Show about how he handles tampering as college football continues to adapt to the transfer portal. While speaking on the program, Smart explained that he doesn't consider tampering to be as rampant as people believe in college football recruiting. Smart instead believes that most of the tampering allegations stem from unhappy players looking for a new destination, and claimed Georgia focuses on that when it comes to tampering attempts from other schools.
Kirby Smart on tampering in college football
"I don't believe there's as much tampering as people think," said Smart. "What I think is there's kids who grow up thinking that if it doesn't work out here I should go somewhere else. But tampering comes from a player that's searching somewhere else, not from a coach reaching out. Look, I've had kids reach out to me from other programs — call and say things, and you can't talk to them. So I know it happens from our place out, from other places.
"So I don't worry so much about tampering as much as I do about 'are we doing the right thing for kids when they have adversity or things are tough that they don't walk away.' We had a group of 15 draft picks that all felt like they had a chance in their career somewhere, they might have left. Well, if they had left they would have missed out on a National Championship. They would have missed out on getting drafted. They would have missed out on graduating. I think those things are critical for success."
CLICK HERE to get 30% OFF your Georgia Bulldogs National Championship apparel
Smart's comments on the Paul Finebaum Show stand out, not only because he's the reigning national champion coach but because they are very different in tone than comments made by Alabama coach Nick Saban on the same program. Saban appeared on the show as well, but appeared upset at the trajectory of college football currently when compared to Smart's focus on adapting to the new era of the NCAA Transfer Portal.
"I think a lot of people criticize the NCAA, but because of a lot of the laws passed, the NCAA really has a difficult time — if they don't get protection from litigation — to even enforce some of the rules they have. I think that is where the transfer portal came from," Saban said. 
"People had to sit out, but everybody applied for a waiver. And if they did not get a waiver, they sued. Eventually you just say enough is enough and you pass a rule that everybody can transfer whenever they can."
While Saban routinely says that he is in favor of the NIL rule changes and giving players more power to control their careers, his comments focused on the struggles faced by Alabama and the NCAA instead of the future for his team like Smart.