Parity or Parody? Examining Nick Saban's latest comments on NIL, transfer portal and the state of college football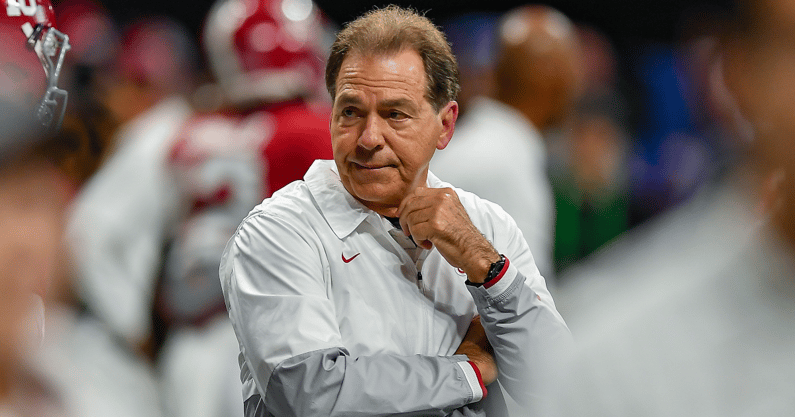 Alabama head coach Nick Saban went on The Paul Finebaum Show last week and lamented the lack of potential parity in college football amid the changing landscape of NIL and the transfer portal. 
"I think one of the things I'd like for us to be able to work back to is, you know, everything in college football has always had parity," the future Hall of Fame coach — and seven-time national champion — said. 
"Same scholarship (numbers), same academic support, whatever it is. I don't think we have that balance right now which can impact the parity of college football land college athletics as a whole. I know we have a lot of good people working on it and I'm sure they will come up with a good solution for us."
This has to be a bit. A parody of other coach's complaints about having to compete against the big, bad Crimson Tide.
Only Saban's SNL skit wasn't finished. 
"I think a lot of people criticize the NCAA, but because of a lot of the laws passed, the NCAA really has a difficult time — if they don't get protection from litigation — to even enforce some of the rules they have. I think that is where the transfer portal came from," he said. 
"People had to sit out, but everybody applied for a waiver. And if they did not get a waiver, they sued. Eventually you just say enough is enough and you pass a rule that everybody can transfer whenever they can.
"I think NIL is good for players. I don't think — players should go earn what they get, which is what our players did last year and did quite well — but when you start having collectives and such that raise money to pay players and then talking about influencing players to go to a school in terms of what they are going to get (in NIL), I'm not sure that's what is good for the game."
In earlier comment to reporters, Saban added, "College football has always created a parity with players and competition, which I think every league already has, whether it's with the NFL salary cap or whatever. …We've always had the same (number of) scholarships, same Alston money, same cost of attendance, same academic support, same medical attention for everybody. And if we don't create that balance, I think it's going to affect the competitive standard of the game in the future, and probably affect other sports. So hopefully somebody will be able to figure that out."
What's been the "same" about college football forever is a lack of parity. Competitive imbalance. College football has always been a Monopoly game. You better be on Boardwalk or Park Place with a couple hotels if you want to win. It was that way 100 years ago with Harvard and Yale dominating, and now, the Alabamas, Oklahomas and Ohio States of the sport are only the "same" as UMass, UConn and Kansas in that they all place 11 men on the field to kickoff a game. That's it. 
Quick check: The Crimson Tide list 34 football support staffers in their directory. They don't include graduate assistants. Nick Saban's alma mater Kent State lists five — several of whom are GAs. 
So "the same."
Saban knows this. One of the sport's most forward-thinking leaders ever didn't dunk on himself because he's a moron. Alabama has experienced unparalleled success exactly because 15 years ago Nick Saban convinced a group of boosters and administrators to pour more — way more — resources into the program. 
So why say it?
I think Nick Saban is tired. He's displeased with what he considers an unsustainable model in regards to the current unregulated NIL policies and free agency with the transfer portal. Athletes have never had more agency, and coaches, particularly the most powerful in the sport, are losing control. Their jobs are legitimately harder than they were a decade ago. Georgia's Kirby Smart is right to note that college coaches are burning out at a rapid rate, but fairly or not, that's what the money is for. 
Lincoln Riley and Brian Kelly both got $100 million just this year to chase better opportunities. So why shouldn't the athletes be provided the same avenues on the open market?
Again, Saban understands this, which is why he bragged just last year that Bryce Young had a $1 million NIL deal lined up. Also, remember what Saban said about the transfer portal last April?
"So is that going to make the rich get richer? I don't know. You can decide that. I don't think we're going to have our best players on our team want to leave Alabama. I don't think our good players are going to be leaving. But I think we'll be able to get some good players to join us."
So by conflating parity with the recent NCAA rule changes around NIL and player movement, Saban is actually clouding his real argument that there does eventually need to be some sort or parameters around NIL and the transfer portal. 
It won't alter the balance of the haves and have-nots but it would provide a better infrastructure for the sport. There needs to be more defined guardrails — only the NCAA shouldn't have a say at all in what those look like. It's too early to know what to make of NIL, but for the portal, transfer windows and adjusting scholarship numbers are potential possibilities. 
For now, Saban will do his best to continue thriving in a sport where he's signed the top recruiting class almost every year, landed three of On3's Top 10 players in transfer portal and is the favorite to win the national championship in 2022.
Parity or parody?