Stetson Bennett takes pride in 3rd down conversion rate vs Oregon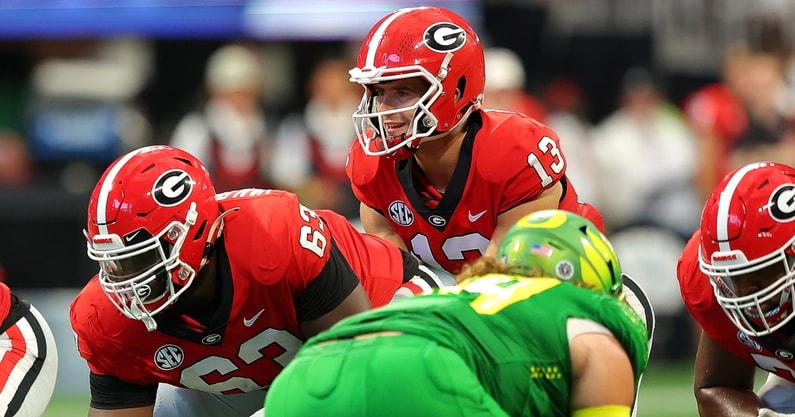 Georgia and Oregon met in Atlanta for a Week 1 meeting. In the end, Georgia, led by Stetson Bennett at quarterback, dominated the game. A huge part of that game was Georgia's ability to convert on third down, keeping drives alive. It's an aspect of the offense that Bennett takes tons of pride in.
While speaking to the media, Stetson Bennett explained why he takes so much pride in the offense's third down conversion rate against Oregon.
"That's what I'm most proud of, it's the third downs, you know," Stetson Bennett said.
CLICK HERE to subscribe for FREE to the On3 YouTube channel
"I mean, that's what we're harping on–third down and redzone, you know, this whole offseason and we executed. And, I mean, yeah, when you got guys like him," Stetson Bennett pointed to Kenny McIntosh, "And you got an o-line where I had four seconds to throw the ball. I mean, you would hope that you have a quarterback that can throw the ball to guys, right," Stetson Bennett said.
"I mean, I think we did, you know, we have confidence in ourselves and the preparation that we put into it to go out there and execute like that.
Georgia beat Oregon 49-3. On the day, the Bulldogs went nine of ten on third down conversions. However, when Stetson Bennett was on the field, they managed to convert on all of their third downs.
Next up for Georgia is Samford on Saturday, before opening their SEC schedule against South Carolina. Oregon, meanwhile, plays Eastern Washington and BYU in the next couple of weeks.
Trent Dilfer sees an NFL future for Stetson Bennett
There are a lot of great college quarterbacks who are expected to go on to have great NFL careers. Stetson Bennett isn't, by and large, one of them. However, Super Bowl-winning quarterback Trent Dilfer does see an NFL future for Bennett.
"Yeah, he's awesome. Stetson Bennett is Chase Daniel…I'm not saying it can't work but I think he'll be drafted as a backup. Now he might be able to earn it. He's got some (Tony) Romo in him. Romo, again, thicker, a little bit taller. But who's to say that Stetson can't get bigger and thicker, too," Dilfer said.