Report: Additional details arise on the suspensions for Chris Rodriguez, Jordan Wright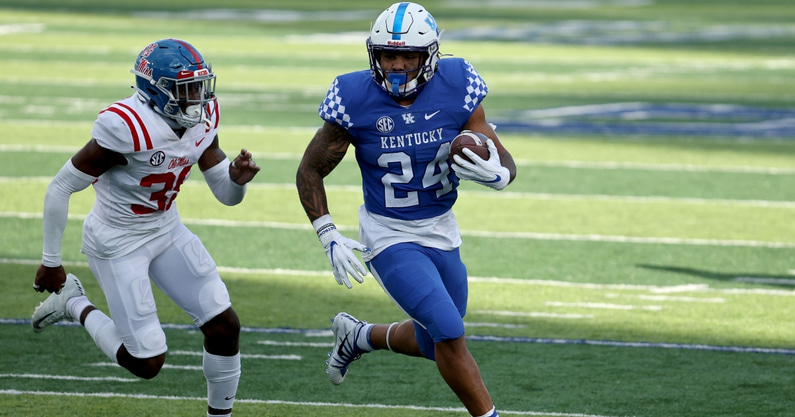 The Chris Rodriguez suspension saga just got a bit deeper. After an NCAA investigation on Rodriguez and his Kentucky teammate Jordan Wright over the offseason that has bled into the early portion of the 2022 season, some light may have been shed on the details surrounding the suspensions.
According to documents obtained by the Lexington Herald-Leader, the two UK football players, who were employed by UK HealthCare, were clocking in inaccurate time cards for their shifts. The HL noted that two players specifically were investigated in the matter, and those two names, we now know, were Rodriguez and Wright's.
"One week I noticed that some of them were clocking in 5 or 6 days a week," one UK HealthCare employee told the HL, via KSR's Nick Roush. "Mostly 12 hour shifts, some as much as 14. When I made this realization, the next morning during our impromptu 'morning meeting' we usually have prior to bed meeting, I mentioned to her that I did not feel comfortable doing their time anymore. She simply nodded her head and said she would take care of them from that point on."
CLICK HERE to subscribe for FREE to the On3 YouTube channel
Kentucky football players have been working with UK HealthCare as 'patient transporters' since 2017 in a program under former Wildcats kicker J.J. Housley, who serves as the director of enterprise operations for UK HealthCare. Housley said the program selfishly helps fill roles with the hospital and expose them to potential careers in healthcare.
Wright has already returned to action, making his first appearance in a Kentucky uniform this year during Week 2's massive upset victory over Florida in the Swamp. Rodriguez won't see the field until Kentucky's next SEC road tip against Ole Miss on Oct. 1. In total, Wright only had to miss the season-opener, while Rodriguez received the brunt of the punishment with a four-game suspension.