Lance Ware opens up on Kentucky's success from three-point territory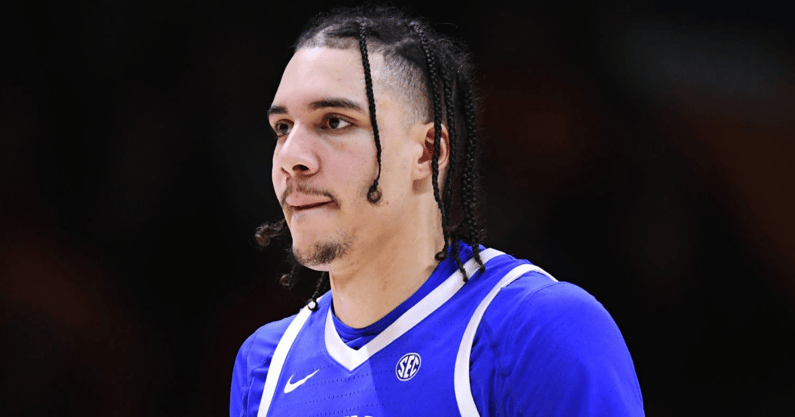 Kentucky picked up their third straight win over the weekend in a 76-67 victory over Texas A&M. However, it was how they did it that was most surprising as they shot their most three-point attempts in over a decade.
With that said, sophomore center Lance Ware said that was the game plan after the win. Based on what they saw from the Aggies on film, he said the Wildcats almost had to take the looks they had from distance because of how A&M doubles the post and clogs the lane.
"We expected it," said Ware. "The way they played defense, if you look, as soon as anybody posts the ball? The weak side guy is doubling or in the lane. So, if you have two people in the corner or wing? Somebody's open, somebody can dive or somebody is open over the top."
"Cal said we shot 30-something threes and that we never shoot (that many) threes. He said it was probably one of the most amounts of threes one of his teams has taken in a game," Ware said. "But, if you look at the film? None of them were contested. Everyone was wide open so they were shots you had to take. We missed some. But we made a few in a row and it kind of opened up the game for us."
Ware was right in his analysis. The 32 attempts were the most three-point shots for a Kentucky team under John Calipari since 2011. It's not as if the Wildcats shot the lights out as they made just 11 of those attempts to finish at 34.4% with Antonio Reeves producing a majority of that as he shot 5-11. Still, it was what the Aggies gave them and they capitalized on the extra space and with some timely makes.
Unless they continue to do it, no one should expect Calipari's philosophy to change this much moving forward. If Kentucky can find that kind of success from distance, though, that will just add yet another layer to their improving offense.