Kentucky MBB showing ability to execute, win games in many ways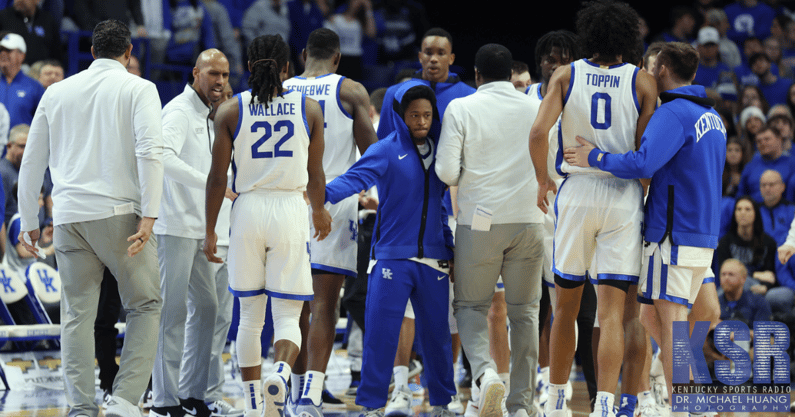 During Kentucky's three-game winning streak, the Wildcats have won them all in vastly different ways.
In the road win against a top-five Tennessee program, Kentucky went into "grind-it-out" mode and slowed the game down to a halt by playing stellar defense. A few days later in a comeback win over Georgia, UK lived at the free-throw line, shooting 23-30 from the stripe (both season-highs) while force-feeding the reigning national player of the year. On Saturday against Texas A&M, John Calipari's team shot more three-pointers (32) than any of his teams have since 2011.
Kentucky scored 63 points against UT (the second-fewest in a win this season), 85 against Georgia, then 76 against Texas A&M — all ending in victories, all with different processes to reach that result.
As the 'Cats continue to find its identity after a rough start to the 2022-23 season, the staff is quickly discovering that part of this team's identity is letting the game itself dictate how they play.
"I think with the dynamics of our team, we can win a game whether it's in the 80s, whether it's in the 70s, the 60s, or whatever the case may be. And I think that's been more of an adjustment for us," Kentucky assistant coach Chin Coleman said on Monday morning. "Before, we kinda wanted to live in the 80s but I think that we've learned our team and we've settled into whatever the game takes, we'll take it whether it's a low-possession game, whether it's a high-possession game. We can play either way."
Kentucky still has a style it would prefer to play, but the overarching theme now is all about executing. It doesn't matter if the game speed is fast or slow; if the 'Cats can execute, then wins will continue to pile up.
"We've kinda slowed our pace down in terms of executing," Coleman added. "But we still want to get easy baskets, we still want to play fast when those opportunities come. But we want to be a better-executing team and we've kinda worked really hard on executing and you see last game how well the ball moved. There was some energy behind the ball."
Against Texas A&M, in particular, the emphasis on ball movement from Kentucky's end was noticeable. It's what led to so many shot opportunities from long range — on defense, the Aggies would pack it in on one side, forcing UK to swing the ball and make an extra pass or two (or three) to find the best quality shot possible, typically resulting in an open shot from deep.
During Kentucky's back-to-back SEC losses against Alabama and South Carolina earlier this month, the 'Cats registered just seven and nine assists in those outings, respectively. Over the last three games, the number shot up to 14 against Tennessee, 15 against Georgia, and 14 again against Texas A&M. UK still plays at the slowest pace in the conference, per KenPom, but the lineups are beginning to sync up and build the chemistry needed to execute at a high rate.
It's why Kentucky can win games with Oscar Tshiebwe scoring just seven points (as he did against Texas A&M) or the team as a whole shooting under 36 percent from the field (as the 'Cats did against Tennessee). UK doesn't need to be perfect at everything, but everyone has to contribute something.
"If everyone is good, no one has to be great," Coleman said. "We have that type of team that if everyone is good, no one player has to be great. Even last game, we had a bunch of guys that were good. Oscar wasn't great. We don't need for everybody to be great, just need for everybody to be good. So if all of our players are good, we'll be good."
On a team with so much talent spread across the roster, "good" performances from everyone can take this group a long way. There's no doubt that Kentucky will need a handful of "great" individual performances moving forward, but steady contributions from top-to-bottom are exactly what this team needs to get into a consistent rhythm for the rest of the season.
At this stage, it doesn't exactly matter how Kentucky earns a win. This team isn't going to take 30 free throws or 30 three-pointers on a regular basis. As long as everyone executes, positive results will naturally follow. UK will look to execute once again on Tuesday night with a road matchup against Vanderbilt at 9:00 p.m. EST on the SEC Network.
Subscribe to the KSR YouTube Channel for press conferences, interviews, original shows, fan features, and exclusive content.