WATCH: Will Levis inks NIL deal with Lexington car dealership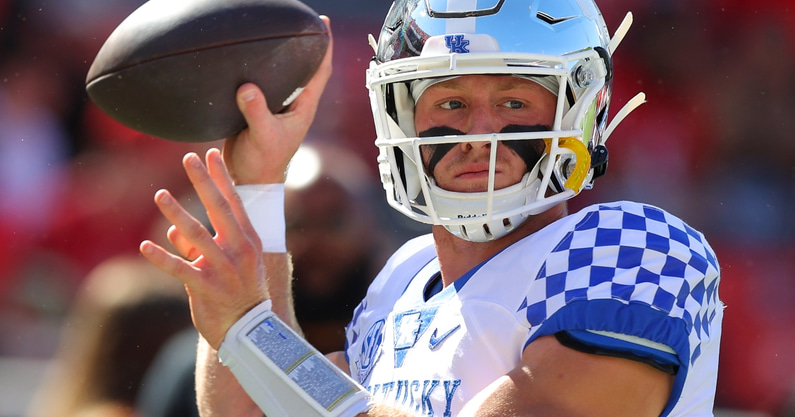 Will Levis is quietly becoming one of the most marketable quarterbacks in college football. On Monday, it was revealed the Wildcats signal caller has inked an NIL deal with Paul Miller Ford in Lexington, Kentucky.
"Kentucky quarterback Will Levis signs a NIL deal with Paul Miller Ford that includes a new Bronco. Wan'Dale Robinson was the first Wildcat to partner with them last year," tweeted Tyler Thompson of Kentucky Sports Radio.
Paul Miller Ford in Lexington has a long history with Kentucky athletics, as the dealership detailed on their website.
"Paul Miller Ford also established a lasting relationship with University of Kentucky athletics. Adolph Rupp, legendary head coach of the UK men's basketball team, drove a Ford from Paul Miller, beginning a tradition of UK's coaches driving cars provided by the dealership," wrote the dealership.
Now, a partnership with Kentucky's star quarterback seems natural for the dealership. Will Levis may have come to the Wildcats from Penn State, but he's continuing to ingratiate himself into the culture of the state through NIL and more.
According to the On3 NIL Valuation, Levis has a valuation of $150,000. In On3's NIL Top 100, Levis currently ranks at No. 89 — among all college football players, he's No. 62. Finally, his per post value is high among all platforms, currently at $1.2K per post.
More on Will Levis, NIL deals
Moreover, Will Levis inking an NIL deal with Paul Miller Ford continued his string of partnerships with brands that represent the state of Kentucky. Earlier this month, the Wildcats star inked a landmark NIL deal — an endorsement agreement for War of Will, a syndicated Thoroughbred stallion standing at Claiborne Farm in Paris, Kentucky.
"We are thrilled to be the first farm to partner with a Division 1 athlete in this newly created NIL space," stated President of Claiborne Farms Walter Hancock in a statement. "Having a star quarterback help promote one of our young and promising stallions is a new way of advertising that we think provides a perfect synergy of our brands.
"Will's athleticism and performance displayed on the football field mirrors what we saw with War of Will on the racetrack and the reason he is such an exciting stallion prospect."
Moreover, both Will Levis and War of Will have enjoyed success in their respective sports. First, Levis threw for over 2,820 yards and scored 24 total touchdowns in his first season with the Wildcats. Additionally, the former Penn State quarterback earned a reputation as a hard-nosed athlete and terrific leader in Lexington last season. He capped off a tremendous season for Kentucky with a victory in the VRBO Citrus Bowl.
On the other hand, Claiborne Farm detailed the success War of Will has enjoyed in their statement.
"War of Will was a Grade 1 winner on both the turf and dirt with earnings exceeding $1.9 million," wrote Claiborne Farm. "With his victory in the 2019 Preakness Stakes, War of Will became the first American Classic winner sired by
internationally renowned stallion. War Front, who also stands at Claiborne Farm. War of Will stands for a fee
of $25,000 and his first foals are being born this Spring."
Continuing, Claiborne Farm stated that the deal between Levis and the Thoroughbred stallion syndicate consists of a multimedia advertising campaign that will center on the athleticism of both football players and Thoroughbred horses. Additionally, the two sides believe this will be a landmark deal, blazing a trail for future similar NIL deals in the future.
As you can see, Will Levis is adapting to his time at Kentucky well. Next season could be even better than his first was for the Wildcats.