Brian Kelly discusses relationship with LSU athletic director Scott Woodward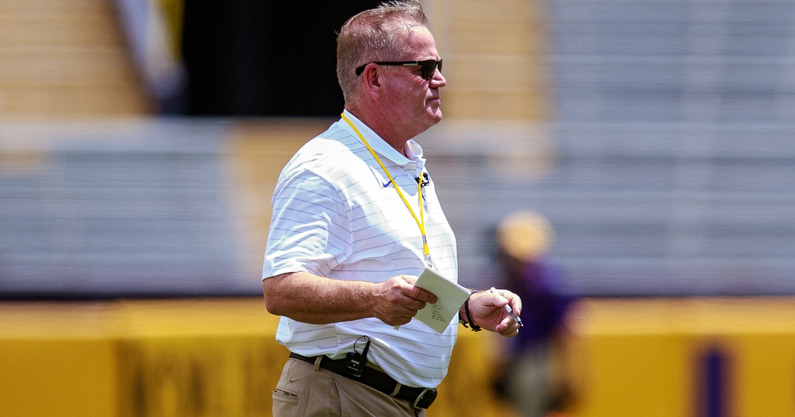 A new era is getting underway with LSU, with Brian Kelly taking over as the Tigers' new head football coach. Kelly was hired away from Notre Dame, after LSU athletic director Scott Woodward pitched the Tigers to the former Fighting Irish head coach.
At this point, Kelly is a few months in at LSU. So far, he has loved working alongside Woodward, and Kelly sees a lot of his athletic director day-to-day.
"Enjoyable," Kelly said of working with Woodward. "He's not a micro manager, he's not over here asking about, 'Hey, what do you think, why don't we have the three technique slant into the B-gap.' It's none of that. It's just what do you need, observations. Again, as you know, he's from Baton Rouge. So you know he's always trying to keep me connected to the next person that I need to be aware of. So a lot of it is just from him, keeping me educated. And as somebody that's never been here before, he's such a great resource.
"So it's not coming over here to talk football every day, though he does love the recruiting part of it, he loves the dynamics there. Of course he has to have his fingers on the pulse of it because it's ever-changing. That's why he's over here, and I love having him over here."
LSU announces early season kickoff times
Last season, LSU started off 3-1 before injuries and other absences derailed the season. The Tigers lost five out of six at one point, though they won their final two games in the regular season to earn bowl eligibility at 6-6. LSU los in the Texas Bowl with a depleted roster, finishing the year 6-7.
Woodward and Kelly are undoubtedly hoping for improvement in 2022. The Kelly era will get underway with four consecutive home games to begin the season, beginning on Sunday, September 4. Each of LSU's first four games of the season will be night games at home.
The Tigers play against Florida State at 7:30 p.m. ET on September 4, and then host Southern on Saturday, September 10 at the same time. LSU then hosts Mississippi State on Saturday, September 17 at 6 p.m. ET, kicking off SEC play. The homestand ends for LSU in Week 4 with a September 24 matchup against New Mexico at 7:30 p.m. ET.