Brian Kelly weighs in on college football players leaving early for NFL Draft preparation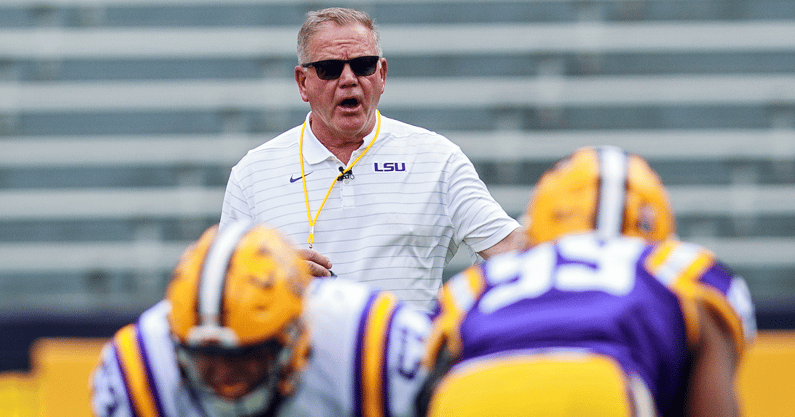 LSU football coach Brian Kelly has no problem with talented college players ending their seasons early to prepare for the NFL Draft. Tigers fans had to get used to that recently when star receiver Ja'Marr Chase opted out of the 2020 season.
Although that was also the height of the COVID-19 pandemic and many players were making similar decisions for their health, Chase said his choice was unrelated to that. The receiver had reportedly spoken with NFL teams before the start of the season and had been assured he would be a top draft pick.
His departure from the team certainly brought disappointment coming off of a national championship, but it ultimately worked out. Chase was indeed a top draft pick, being taken fifth overall by the Cincinnati Bengals and securing millions of dollars.
"I think those are always going to be part of it," Kelly said in an interview with WAFB in Baton Rouge. "You have to make business decisions for yourself. Look, those signing bonuses are $10-15 million dollars. Those are tough business decisions. It's the second and third and fourth round draft picks that you scratch your head with."
Kelly is set to enter his first season at LSU after spending the past 12 years at Notre Dame. Last year he ran into a similar issue when Fighting Irish safety Kyle Hamilton shut himself down with five games left in the regular season. Hamilton's situation was different from Chase's, as the Notre Dame safety suffered a knee injury that forced him off the field for some time.
However, he reportedly still could have made it back for the end of the season, but chose to focus on his pro career. With Hamilton expected to be a top NFL Draft pick as well, Brian Kelly did not argue with his decision.
"I had no problem with Kyle Hamilton deciding not to play the last few games," the coach said. "I think that was a smart decision. Obviously he came up with an $8-9 million signing bonus. I think those are individual decisions. What we need to do is make sure that we continue to educate guys on what does that money look like for them moving forward because it's generational wealth. Who's gonna ever quarrel with somebody if they're talking about generational wealth?"
Ultimately to Kelly, the most important thing is to do what's best for his players. And if that means leaving a season or a few games early to protect their status as a top pick, then he will stand behind them the whole way.