Brian Kelly discusses how LSU plans to use Harold Perkins in 2023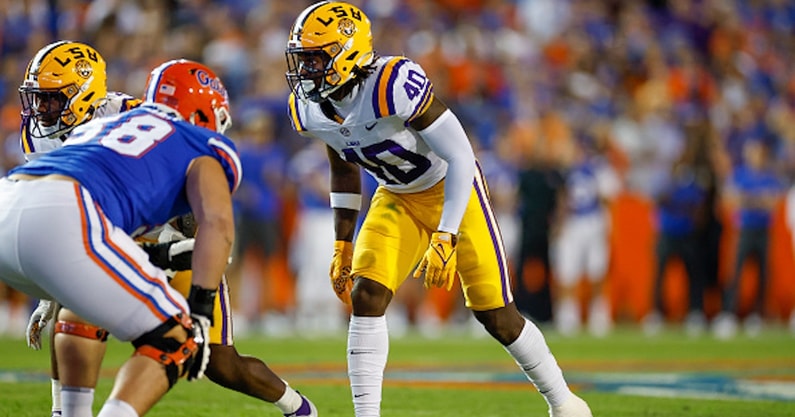 Brian Kelly was honest about Harold Perkins' role on LSU's defense for the 2023 season after his breakout freshman campaign.
Perkins was one of the most feared defenders in college football last fall, but he has an expanded role this year. Kelly maintained Perkins will still pass rush a lot, but he's a more complete player.
He was asked if Perkins would tail off in pass rush production based on his utilization during spring practice.
"Who says we're not going to use him as a pass rusher," Kelly said. "I think you're going to see him as active as he's been, and maybe just in a different fashion. If you just line him off the edge, everybody's gonna game plan for him. I think we put them in a better position at the linebacker position, and then we can move him around on third down, so I think he's going to be as active as any time that we've had. 
"He just has other responsibilities now that that he hadn't had before. Omar (Speights) is just a great complement and great pan. Greg Penn III's had a really good spring as well. So the three of those guys have really done a nice job. West Weeks has done a really good job." 
Overall Kelly said Perkins' development, along with additions at the position, made linebacker one of the best groups on the defense. That includes Perkins' increased role.
"So you know, we've really gone from a position where we were concerned to a position where we feel really strong," Kelly said. " Harold is now really getting down the nuances of that linebacker position. He actually gives us a lot more in the playbook that we can do with him from that position than just lining them up off the edge."
Last season, Perkins had 72 total tackles, 39 solo tackles, 13 tackles for loss, 7.5 sacks, one interception, two pass deflections and four forced fumbles. An increased role for Perkins could certainly give him a change to duplicate those numbers.
CLICK HERE to subscribe to the On3 YouTube channel today for all of the latest news on college football, recruiting, NIL, more! 
As a member of the Class of 2022, Perkins was a five-star recruit out of Cypress (Texas) Cy Park, according to the On3 Industry Ranking, a weighted average that utilizes all four major recruiting media companies. He was the No. 2 overall prospect in the state, the No. 1 linebacker in the class and the No. 9 overall prospect in the class.