5-star Kiyaunta Goodwin highlights big Michigan State visit weekend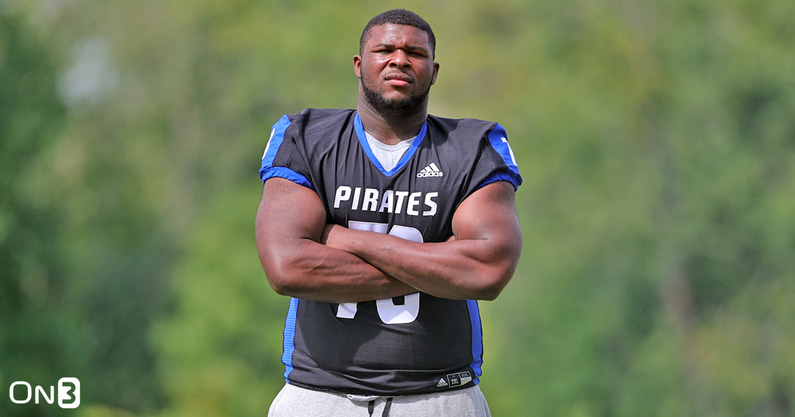 It should come as no surprise that the biggest game of the weekend – Michigan at Michigan State – should attract some big-name recruits.
And the biggest name on the visit list for Michigan State this weekend is five-star offensive tackle Kiyaunta Goodwin of Charlestown (Ind.) High.
Goodwin, who is the nation's No. 16 player and top offensive tackle, is a longtime Kentucky commitment. But that's not stopped other programs, like Michigan State, from heavily pursuing him.
While much of the focus has been on Alabama's pursuit of Goodwin, the Spartans have also been relentless in their recruitment. Even before his commitment to the Wildcats, the Spartans were in his top five largely thanks to the efforts of offensive line coach Chris Kapilovic.
Michigan is also another school getting an official visit from Goodwin. So, it'll be a good opportunity for the Spartans to make a big impression on and off the field against one of their recruiting rivals for one of the nation's best prospects.
Michigan State hosting another 5-star
Cypress (Texas) Cy Park linebacker Harold Perkins only received an offer from Michigan State earlier this week. However, the five-star is expected to be in attendance on an official visit, according to a report from 247Sports. He was originally scheduled to visit Oregon this weekend. But that ultimately didn't materialize.
The reported trip to Michigan State is a big surprise for Perkins, who told On3 Director of Recruiting Chad Simmons this summer that he wants to play in the SEC.
"I am only going to an SEC school," Perkins said. "That is where the dogs are at. That is where the best play. I am a dog and that is where dogs go."
According to On3's expert panel of predictions, which school he ends up at is still too close to call. As the in-state schools, both Texas A&M and Texas have made him a huge priority. The Aggies' big upset win over then-No. 1 Alabama surely didn't hurt. But LSU remains a wild card. With head coach Ed Orgeron now out after this season, who the Tigers end up hiring could have a major impact in this race. Now with the visit to Michigan State on tap, the Spartans would seem to have at least a puncher's chance.
Former Kentucky commit visiting Michigan State
Consensus four-star senior cornerback Jeremiah Caldwell of Belleville, Mich., is also making an unofficial visit this weekend for the big game.
Caldwell, who is 6-foot-2 and 175 pounds, was committed to Kentucky at one point in the process. He backed off that pledge in early August.
Michigan State has been a team that has remained in contact with Caldwell, and he's been a fan of the Michigan State coaching staff. Tennessee is the other team that has been high on his list since his decommitment.
West Virginia commitment finalizing visit plans
Consensus three-star EDGE Zion Young of Atlanta Westlake has been committed to West Virginia since June 28. But Michigan State has remained in contact. Now the Spartans are expecting to host Young on an official visit this weekend.
Young originally chose the Mountaineers over the likes of Illinois, Buffalo, Western Kentucky, Middle Tennessee and others. He also recently picked up a Missouri offer, so his recruitment is not completely over.
Most Michigan State commits expected
With it being such a marquee game, Michigan State also plans to bring in most of its committed recruits to campus for unofficial visits.
The visit list of committed prospects is highlighted by consensus four-star ATH Jaden Mangham of Franklin (Mich.) Wylie E. Groves. Consensus four-star RB Dillon Tatum of West Bloomfield (Mich.) High will also be on campus. He committed to the Spartans almost a month ago and was a big recruiting win for Michigan State.
Buford, Ga., consensus three-star safety and longtime MSU commit Malik Spencer is also making the unofficial visit. Other commitment visits expected: consensus three-star WR Tyrell Henry, consensus three-star OT Ashton Lepo and consensus three-star ATH Shannon Blair.
Impressive group of 2023s visits
The Spartans are using the big game setting to also bring in some top underclass recruits.
The most heavily recruited name in the bunch is On300 cornerback Caleb Presley of Seattle Rainier Beach. Presley ranks as the No. 71 junior in the country. He already has more than 25 scholarship offers. Michigan is also putting the full-court press on the consensus four-star prospect, so it's a good chance for the Spartans to make a move here.
EDGE Joshua Mickens of Indianapolis Lawrence Central is another top-100 junior coming to the game. Mickens ranks as the No. 91 player in the country and is a consensus four-star. Mickens does not have any early leaders, but he was at Iowa earlier this season and came away impressed with the game-day setting in Iowa City.
On300 junior and Michigan State four-star tight end commitment Brennan Parachek of Dexter (Mich.) High is also making the unofficial visit. He ranks as the No. 182 player in the country and was a big early recruiting W for Sparty.
Another top junior on the visit list is On300 four-star IOL Dylan Senda of Dearborn (Mich.) Divine Child. He's made multiple stops at games this fall, including Northwestern, Michigan and Penn State. West Virginia, Notre Dame and Cincinnati are also going to get fall visits.
Also expected is defensive lineman Jalen Thompson of Detroit Cass Tech. Thompson is the No. 227 player in the On300 and a consensus four-star recruit. He has more than 20 offers, but Michigan State is in a prime position because his former coach, Thomas Wilcher, is the Spartans' director of community and high school relations.
2024 visitor to watch out for
Sophomore quarterback Jake Merklinger of Savannah (Ga.) Calvary Day is also coming in for an unofficial visit. Merklinger camped this past summer at Michigan State and the Spartans were his first scholarship offer. Cincinnati has also offered the 6-foot-3, 185-pounder.