Dick Vitale reacts to post game melee between Michigan, Wisconsin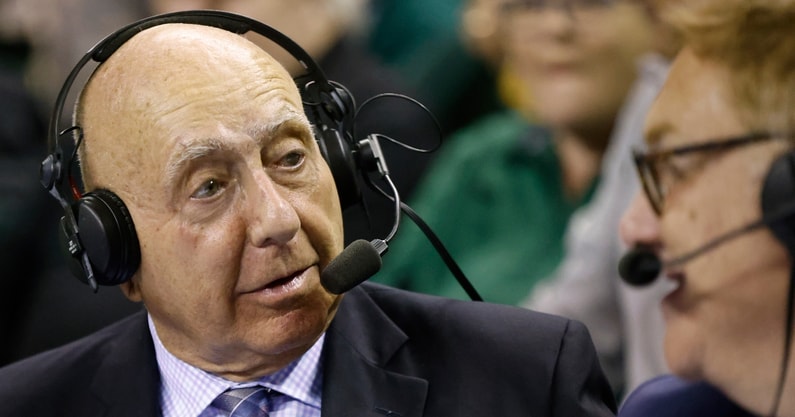 After a post-game fight broke out this afternoon between the Michigan and Wisconsin coaches/players, plenty of people across the national media have decided to chime in. ESPN's long time college basketball expert Dick Vitale gave his thoughts on Twitter and not surprisingly, he was not happy about it.
His statement on his Twitter page reads: "Lucky that no one was injured in the ugly scene after the Wisconsin vs. UM game. The emotions after games has created absurd behavior. Commissioners of each [conference] MUST STEP UP & state any bad behavior in the handshake line will be SEVERELY PUNISHED/if not GET RID OF IT!"
Vitale's comments are in line with suggestions of many other people in the national media. A few of ESPN's other TV personalities have also suggested the possibility of getting rid of the handshake line after games. It sounds like a more than reasonable solution. Quite honestly, it's kind of surprising something like this hasn't happened more often in post-game handshake lines. Plenty is at stake during these college basketball games and emotions run high quite often.
The Big Ten Conference also issued a statement on the postgame melee shortly after it happened.
Big Ten issues statement on incident with Michigan head coach Juwan Howard
The Big Ten issued a statement on the postgame fight between the Michigan Wolverines and Wisconsin Badgers, which was sparked by an altercation between head coaches and including a punch thrown by Juwan Howard at an assistant. The Sunday incident has made national headlines and drawn widespread criticism from the media.
"The Big Ten Conference is aware of a physical altercation involving Michigan Head Coach Juwan Howard at the conclusion of the Michigan Wolverines and Wisconsin Badgers men's basketball game," the statement reads. "The conference is in contact with both member institutions and is currently assessing the incident. The conference will provide more information and will take swift and appropriate disciplinary action when it completes its review."
Juwan Howard didn't join the typical postgame coaches handshake right away. The announcers noted at the time that it was odd Howard refrained from approaching Greg Gard as the game clock expired. Howard seemed to be the one upset, getting in Gard's face, pointing and eventually having it escalate to the point of physicality on Howard's part.
The anger seemed to begin due to a late timeout from Gard when the game was already decided. The timeout came with 15 seconds remaining while Gard kept the intensity up with a full court press while winning by double digits.
On3's Simon Gibbs also contributed to this story.