Kentucky basketball backs out of nonconference game with Michigan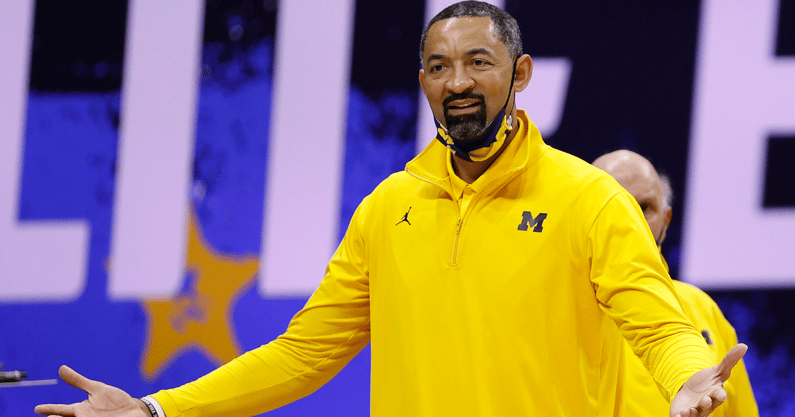 Michigan basketball released its nonconference schedule Monday, and a planned game against Kentucky is nowhere to be found. The Wolverines stated in a press release that the Wildcats elected not to play "due to uncertainties with scheduling."
Michigan and Kentucky are still scheduled to play in 2022 at the 02 Arena in London. Discussions are being had to reschedule home games for both teams.
The Wolverines will play San Diego State on Dec. 4 in place of the Wildcats.
Even without Kentucky, Michigan's schedule is not devoid of tough opponents. Seton Hall and North Carolina both make appearances on the schedule. The Wolverines also face UNLV in the Roman Main Event in Las Vegas, then either Wichita State or Arizona.
Michigan finished 23-5 and earned a No. 1 seed in the NCAA Tournament during coach Juwan Howard's second season. He led the team to the Elite Eight, where it fell to UCLA.
The Wolverines lose a lot of production from this past season, including No. 8 overall pick in the NBA draft Franz Wagner. Isaiah Livers (13.1 points per game) is also gone.
They added six freshman to their team in 2021, including four members ranked in On3's top 100 prospects. Power forward Caleb Houstan (No. 9) and center Moussa Diabate (No. 17) both rank inside the top 20.
The Wildcats are coming off of the worst season in recent memory. They finished 9-16 and missed the NCAA Tournament for just the third time in the past 29 years.
Kentucky also released its nonconference schedule Monday. Games against powers such as Duke and Kansas, as well as instate rival Louisville, are on tap. Fans in Lexington are hopeful that John Calipari's latest batch of freshmen can help turn things around quickly.
Both Michigan and Kentucky basketball fans will lament the loss of this potential nonconference matchup, but at least there's still next year. Until then we'll just have to speculate about what could have been.