Scott Frost on Casey Thompson: It's his job to lose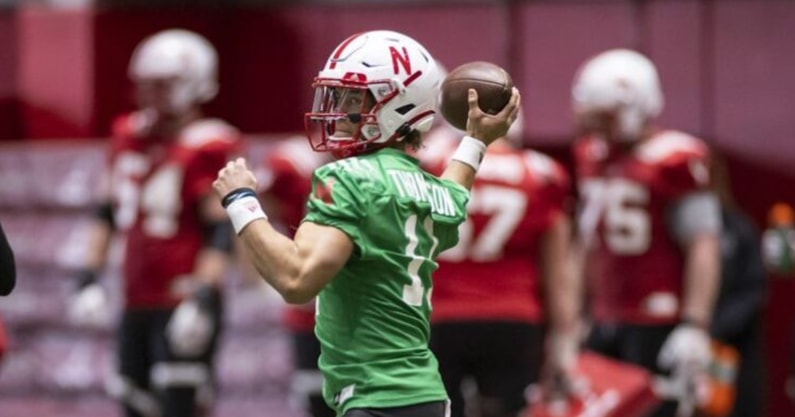 Landing Casey Thompson was big for Nebraska, which looked to upgrade at quarterback after Adrian Martinez hit the transfer portal. Friday, Scott Frost made it clear where Thompson stands in the Cornhuskers' quarterback battle.
"Right now, it's his job to lose," Frost told reporters.
However, Frost also revealed Thompson underwent a thumb procedure over the offseason. But the former Texas quarterback appears to be settling in well with his new team — and Frost credited the procedure.
"I got to tell you, his play has really risen since spring and I think that had something to do with it," Frost said. "We've got a lot of quarterbacks playing well right now, but I've been really pleased with what I've seen from Casey and we'll let him keep working. … I just think he has a little more confidence, more than anything. But probably a little more zip on the ball and just a little better grip on the football, frankly."
Although he said the job is Thompson's to lose, Frost said he hasn't necessarily gained an edge in the quarterback competition with Chubba Purdy. That said, the Nebraska headman sees Thompson's experience during practice and said he doesn't make the same mistakes some younger quarterbacks make.
"I don't know if he's separated himself. He's just played well," Frost said. "Other guys have played well, too. He's obviously the guy with the most experience that we have. I want him to keep getting better. I want all the guys to keep getting better. We've got really good players around whoever's going to be quarterback.
"But seeing a lot of consistency and you can tell he's experienced because he does some things that young quarterbacks don't do. … [He] has really good feel in the pocket, really good command presence."
JD PicKell: Nebraska transfers need to sync up early
To fix issues that the Cornhuskers have had in the past, Frost has brought in Mark Whipple to be his offensive coordinator and hit the transfer portal hard. That includes bringing in a new quarterback in Casey Thompson.
On3's J.D. PicKell broke down the approach, pointing out that it's incredibly important that these transfers sync up early for Nebraska.
"These transfers need to sync up," PicKell said on The Hard Count. "Because we've talked about it, we've got a whole video on this channel, go check it out, portal power for Nebraska. They did a lot to retool this roster at key positions, at the edge rusher position, at the wide receiver position, at quarterback."