Armando Bacot seeking national championship before ranking himself among the greats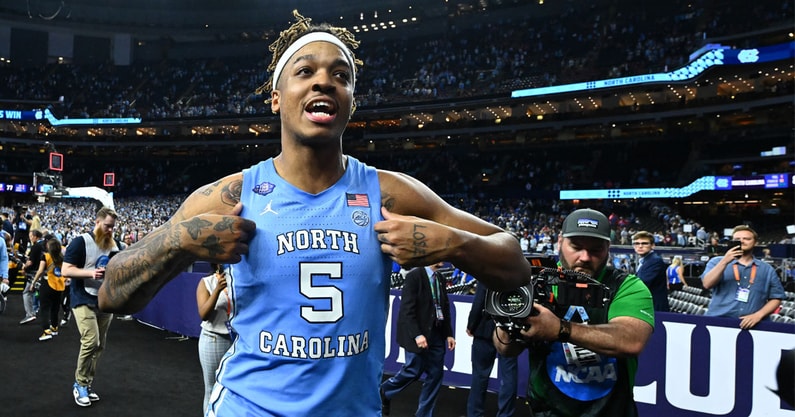 Armando Bacot is putting himself in the North Carolina record books, most recently breaking the program's career double-double record. When he decided to come back for another season in Chapel Hill, we all knew he was going to have a phenomenal season and it's playing out in front of our eyes.
When it's all said and done, Bacot will likely go down as one of the best to ever put on a North Carolina jersey. He is not quite there yet though, saying he still needs to add a national championship to the resume before being put beside some great names.
"I can't put myself too high because there is one more thing I got to do," Bacot said. "If I get that, then we can have a different discussion."
Bacot got close last March, making a magical run to the Final Four as an eight-seed. They then beat arch-rival Duke in what will probably be a forever trump card before losing to Kansas in the national championship game. North Carolina was on the brink but fell just short.
The Tar Heels find themselves in position to compete in the NCAA Tournament this year as well, most recently getting a road win against Syracuse on Tuesday night. Head coach Hubert Davis will be hoping the remaining ACC schedule prepares his team for the Big Dance.
Armando Bacot explains why he is a great player
Bacot is a rebounding machine, as evident as the two records he has broken. A good chunk of have on the offensive glass, where the North Carolina big man says that's a place he prides himself. Giving himself and teammates extra opportunities is how he became great.
"My anticipation, not giving up on plays," Bacot said. "I really put on emphasis on extending plays and offensive rebounds. Because you'll miss a lot of shots. So, getting offensive rebounds, at least fouls — getting second chance opportunities is one of the things that I really pride myself on."
If UNC is going to make the run they expect to, Bacot will have to continue to do his great work with the rebounding. With him priding himself in the work he does there, the Tar Heels will be just fine in the final two months of the season.