WATCH: Jeff Capel calls out North Carolina fans, social media team for disrespect towards his brother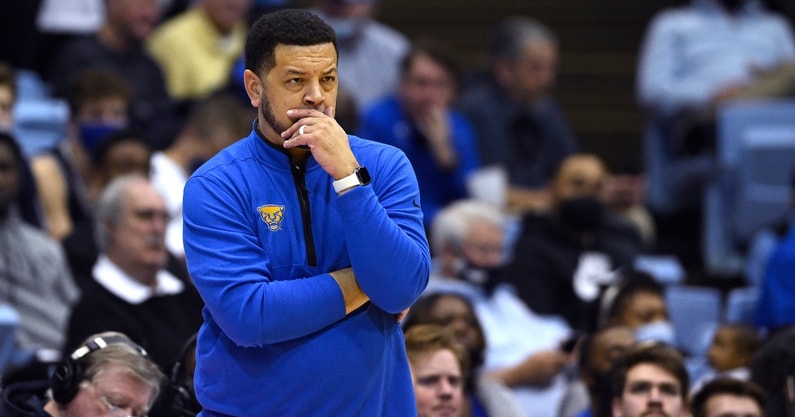 The Pittsburgh Panthers defeated the North Carolina Tar Heels on Wednesday night, 65-64. However, there was not only plenty of controversy as the buzzer sounded, but once the microphone turned on in for the post-game press conference for Panthers' head coach Jeff Capel. Apparently, there was a social media post by the Tar Heels' social media team that got both of the Capel brothers fired up before the game. Jeff Capel's brother, Jason Capel, is an assistant for the Panthers and played for the Tar Heels from 1998-2002. Following the game on Wednesday night, Pitt head coach Jeff Capel addressed the disrespect towards his brother in the post game press conference.
From the sounds of it, Jason Capel has a complicated relationship with North Carolina basketball. Below is the social media post that apparently angered the Capel brothers.
The player in that tweet is Creighton Lebo. He happens to wear the same number that Jason Capel did during his playing days for the Tar Heels. Lebo sees very limited action on the floor, which is maybe why Jason Capel views the tweet as a shot at him directly. The 'Heels social media team very well may just have wanted to put Lebo on a social media post, which makes sense. On the surface level, it looks like there is nothing to the tweet, and that it might have merely just been a coincidence that Lebo and Capel have the same number.
Regardless, it did not sit well with Jason Capel and he got into a shouting match with fans outside the Pitt locker room after the game was over. "Y'all gonna disrespect me? All I did for this program? Y'all gonna boo me? I held this **** together when Matt Doherty tore it apart. **** that ****." So not only did the social media post get him fired up, but apparently UNC fans booed him on Wednesday night, which didn't make things any better.
During his senior year with North Carolina, Jason Capel led the team in scoring with 15.6 points per game. He also played in a Final Four with the Tar Heels in 2000. It sounds like a complicated situation between the Capel brothers and the North Carolina basketball program. It's hard to tell whether or not the conflict could be resolved in the future, but for Jason Capel's sake, you could only hope it does.
It appears that plenty of the Tar Heel fan base have already turned their back on him, and the verbal exchange on Wednesday night won't help. It will only further divide the former UNC star and his alma mater's fan base.