Live Scouting: UNC signee Zayden High at the National Hoopfest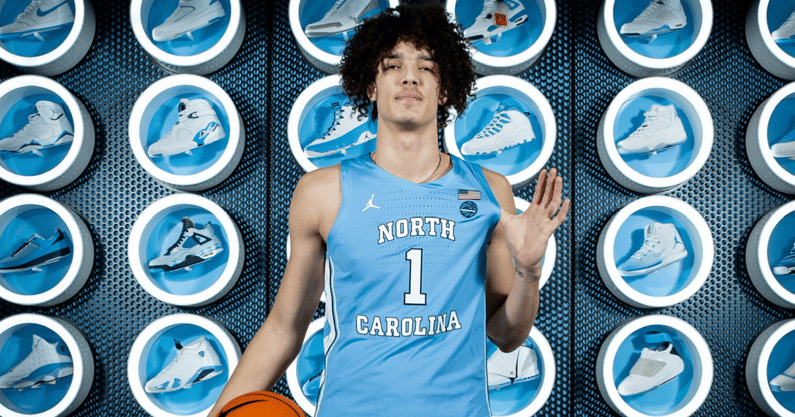 Pleasant Grove, Utah – On3 was on hand for two Zayden High games at the 5 for the Fight National Hoopfest at Pleasant Grove (UT) High. The 2023 On3 150 No. 28 player helped his Chandler (AZ) AZ Compass team go 2-and-0 for the event and upset then No. 1 ranked Montverde (FL) Academy.
The four-star center committed to North Carolina in October over programs like Villanova and Michigan.
Let's dive into the UNC signee's game and how he played during the 5 for the Fight National Hoopfest.
High's frame
Zayden High has good size, with long arms and broad shoulders. It is a very projectable build, one that you can see quickly putting weight on as he gets into a college weight program. Currently, High is very fluid. He runs the floor well, he moves his feet well, and he has some explosive athleticism.
The frame and the athleticism are where the intrigue lies. High is a late-bloomer. He entered high school as a guard in the 6-foot-1, 6-foot-2 range. He is now a senior at AZ Compass and is 6-foot-10. High has kept the mobility he had when he was a guard, but he is also still growing into his new frame.
At his height, his ability to run, jump, and move is unique. There will still be some time expected for him to get used to being 6-foot-10 and realizing how to utilize his current skill set best, but that will come with time and reps.
High's shooting upside
As I mentioned previously, Zayden High grew up as a guard. With this AZ Compass team, he is asked to play mostly within 10 feet of the basket. He did not shoot a three in Utah; however, we can pull some shooting numbers from the summer with his play with the JL3 program on Nike's EYBL Circuit.
High averaged 4.8 threes attempted in 21 circuit games. The 6-foot-10 High knocked down 1.2 for them. His coach showed clear confidence in him taking the shots. Right now, High is a catch-and-shoot guy with his feet set. He has a high release point with a soft touch. He will need to continue working on his base, both with the feet and balance, but that is something that could come as he adds strength.
High shot 70.1 percent from the free throw line this summer. This percentage further shows the upside he has as a shooter.
The intangibles
Watching Zayden High play, he tends always to have a smile on his face. One thing that I have noticed over the past few months is how hard High plays. There have been previous questions about High's toughness. In July, with the JL3 program and now with AZ Compass, High has not shied away from any physicality.
The physicality can get the better of High at this point because of the strength. High will need to continue adding weight to his base and strength in his core. He spends a lot of time on the floor, but bigs take patience.
This leads into the defensive side of the ball. High moves fluidly which suggests he will be able to switch and move his feet. He is not a natural rim protector, but his athleticism and effort will enable him be a good post defender. Again, added strength will be imperative for him, and while he may not be there yet, High has the makings of a player who can be a good defender.
High's father, Michael High, played D-II basketball at Southern Nazarene. As we say so many times in the scouting world, be patient with bigs. Especially the ones who have grown more than half a foot in such a small window of time.