Marcus Freeman on questions surrounding Kyle Hamilton: He's the entire package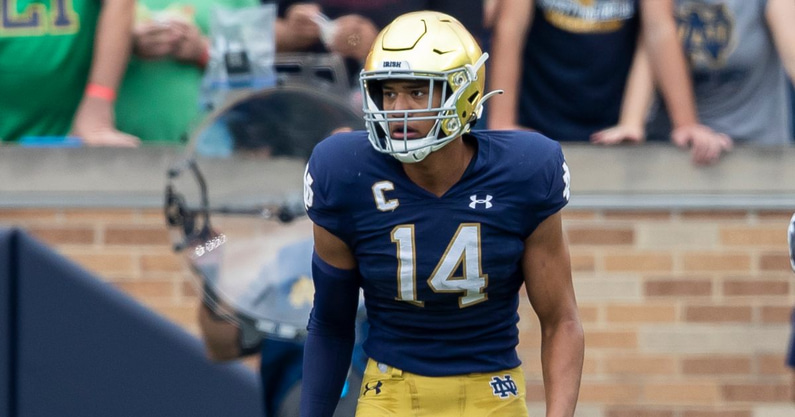 Notre Dame Fighting Irish's new head coach Marcus Freeman has been fielding questions from NFL teams about some of his former players that are partaking in the 2022 NFL Draft. One player, in particular, Kyle Hamilton, is drawing interest from anywhere and everywhere. Last week while a guest on the Rich Eisen Show, Freeman explained what NFL teams can expect from his former all-American safety.
"You got an unbelievable football player," said Freeman. "He's a guy that can do it all; that can run. He can hit. He can tackle. He's really intelligent. He takes care of his body. He loves the game of football. And, he's an extremely great young man. And so, it's the entire package in him."
Like with all players in the draft, some questions have arisen about Hamilton. The biggest question surrounding the possible top-five pick is his 40-time and on-the-field speed. And Freeman had an answer for that.
"I know that there's been talk about his 40 time, and I didn't know what he would run, but you know I saw him in season and live with my own eyes. Nobody can outrun him on the field. We used him in so many different ways, and I often say that sometimes I think I did him a disservice because he could do so many different things. We utilize him in so many different ways that I never probably put him in a position to just say, hey, just continue to get better at this position, this part of football. But again, he was a swiss army knife, and we used him tremendously, and he did a great job for us."
2022 NFL Draft: Kyle Hamilton goes through his pre-snap progression
Former Notre Dame star Kyle Hamilton has seen his 2022 NFL Draft stock fall in recent weeks. Still, he's sure to be an impact player in the NFL, and he opened up about what goes through his mind prior to the snap.
During an appearance on The Rich Eisen Show on Tuesday, Hamilton walked listeners through his pre-snap progression. He described what he looks for prior to the play, especially as the play gets started.
"First, formations. What they like to line in, I get that … watching film," Hamilton said. "What they like to line in, are they in a formation where they can motion to another formation that they like and they kind of hide it, who's where in the formation, is there a receiver in the backfield … stuff like that. Quarterback demeanor. Shotgun, under center. There's a bunch of stuff that goes on pre-snap, honestly."