Pro Football Focus names Blake Fisher offensive tackle most likely to break out in 2022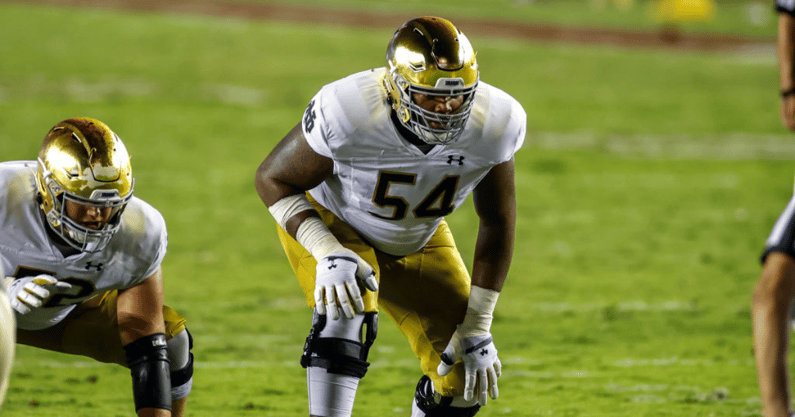 Notre Dame has a lot of talent to replace in Marcus Freeman's first year as head coach. The Fighting Irish return just 29% of their offensive line snaps from last season, however, they do have one of Pro Football Focus's top candidates to breakout at tackle. Freshman Blake Fisher was able to keep his redshirt after suffering an injury in the first game last season. Now, he's poised for a major comeback in year two.
As a true freshman, he saw minimal playing time in 2021, but it was not due to a lack of talent. After tearing his meniscus in Notre Dame's opener against Florida State, Fisher was out for the remainder of the regular season. He returned for the Fiesta Bowl against Oklahoma State and played the entire game — all 91 snaps — allowing one sack and one pressure.
With a summer and fall to prepare for next year, he is a young player to watch develop under offensive line coach Harry Hiestand. Fisher was continuing his rehab during the spring practice season. He was able to take some snaps with his teammates as he works his way back to 100%.
The 6-foot-6, 336-pound tackle was a four-star prospect coming out of high school in Avon, Indiana. He was No. 55 overall in the nation, according to the On3 Consensus, and the No. 7 offensive tackle prospect.
Marcus Freeman, Ryan Day preview Ohio State vs. Notre Dame
When Marcus Freeman found out that the point spread is 13.5 for Notre Dame vs. Ohio State to open the 2022 season, he wasn't too impressed.
"I think they should widen it a little bit more," Freeman joked.
Despite what the oddsmakers say, Freeman and Ryan Day are both excited about the opportunity to start their seasons Sept. 3 at The Horseshoe.
Day expects a big crowd for the matchup — and understandably so. The game's a big deal not only for the two programs, but also for the game as a whole.
It's a homecoming of sorts for Freeman, who played at Ohio State. However, it won't be his first time in the visiting locker room. Cincinnati played in Columbus when Freeman was the Bearcats' defensive coordinator.
But that aside, he knows how much the game means for his program given both teams' histories. He also noted it's a good chance for his team to prove just how good it will be amid the high expectations.
"What a great opportunity for our football program to go and, really, it's going to be an opportunity to see how good you really are," Freeman said. "To play an extremely talented opponent, one of the best in the country, there's nothing better a competitor wants [than] to go play the best."
On3's Nick Schultz contributed to this report.