What Sam Hartman winning the Heisman Trophy would mean for Notre Dame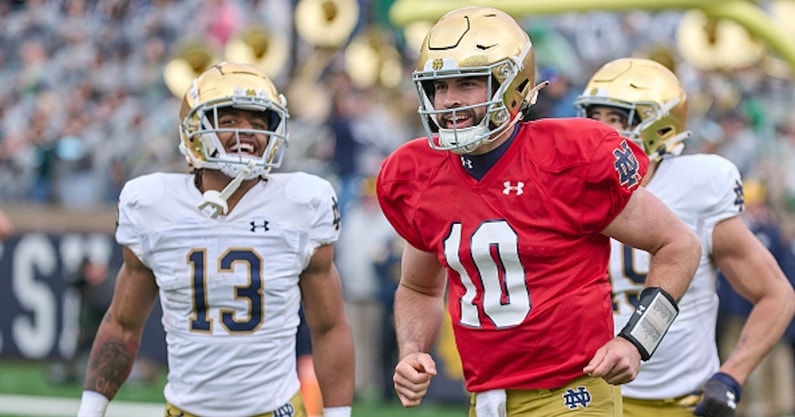 Sam Hartman and the Heisman Trophy sounds like a good idea for Notre Dame on paper, but can it actually happen?
New offensive coordinator Gerad Parker has the keys to the car at this point and gets to coach a veteran. Hartman lit up the ACC during his time at Wake Forest.
But as On3's J.D. PicKell put it, a Heisman Trophy for Hartman probably means Notre Dame pushed all of the right buttons all season.
"if Sam Hartman were to win the Heisman Trophy, likely has either one loss or they're undefeated," PicKell said on The Hard Count. "That'd be huge. That would be huge because if Sam Hartman plays well enough to win the Heisman trophy, we say this, the best player is typically on one of the best teams. So Notre Dame continuing to win and being able to be in position to make the College Football Playoff probably goes hand in hand with Sam Hartman being able to win the Heisman trophy."
PicKell then broke down the potential impact of Parker on Hartman in the Fighting Irish offense.
"The other piece of this is Gerad Parker in his first year as the OC at Notre Dame, probably crushing it if Sam Hartman wins the Heisman trophy," PicKell said. "Marcus Freeman said it when he announced him as the OC, they wanted to play a balanced style of offense and be complimentary. But if Sam Hartman is putting up Heisman kind of numbers, that probably means they found something with the passing game and with some of these weapons on the outside, and that Sam Hartman has been cooking and that he is synced up with his new OC Gerad Parker."
Throughout the course of his career, Hartman had 12,967 yards, 110 touchdowns, 41 interceptions and a 59.1% completion percentage at Wake Forest.
"And that will be phenomenal for Gerad Parker," PicKell said. "Gerad Parker ends up being the guy and it's kind of a little bit of a sheepish feel around Notre Dame circles that okay, well, we didn't get our first choice. So we went internal and there were a lot of just bad feelings around that but if Parker and Notre Dame are in position to allow Sam Hartman to win the Heisman Trophy, that means they found something there. That means they're synced up, both Hartman and Parker. That'd be a very, very good thing, obviously."