Ohio State RB Miyan Williams carted off field after strong first half against Indiana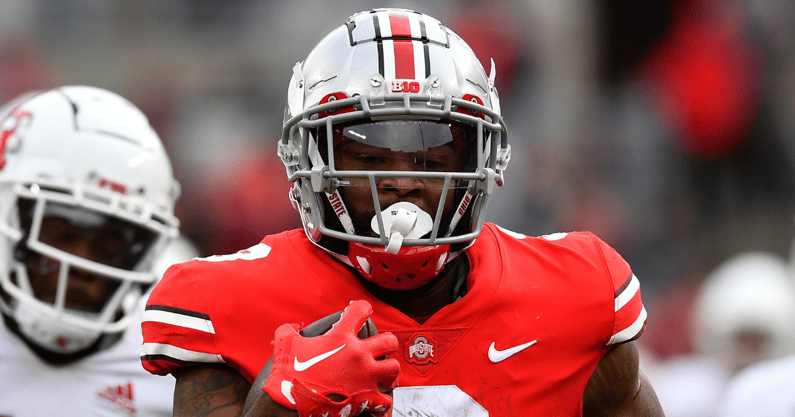 Throughout the first half for Ohio State, it was the Miyan Williams show.
The Buckeyes running back had been dominant against Indiana, rushing for 147 yards and a touchdown on 15 carries. However, disaster struck towards the end of the second quarter, as the Ohio State ball carrier went down with a lower leg injury, needing help to get off the field and eventually being carted off.
CLICK HERE to subscribe for FREE to the On3 YouTube channel
However, he seemed to be in high spirits as he left the field, thawing up an O-H and a thumbs up as he was carted off.
On the season thus far, Williams has enjoyed immense success, rushing for 636 yards and 12 touchdowns entering Saturday's game. Additionally, he's added four receptions for 26 yards, as well.
The Buckeyes have been snakebitten when it's come to the health of their running back room, but Williams has been a bright spot. Hopefully the injury isn't too serious, but we'll keep an eye out for updates as they become available.
Ohio State HC Ryan Day: I absolutely think two Big Ten teams can make College Football Playoff
Meanwhile, all Ohio State has to do to earn a spot in the College Football Playoff is win out for the rest of the season. That's obviously easier said than done, but despite the Buckeyes' 9-0 record, head coach Ryan Day says none of his team's goals have been reached up to this point. 
"We know what our three goals are… beat the team up north, win the Big Ten Championship and win a National Championship," Day said on Big Noon Kickoff. 
Ohio State (2) and Michigan (3) currently hold two of the top-four spots in Week 11's College Football Playoff rankings, and even with the two team's impending matchup in late November, Day believes both teams have a chance to earn a spot in this year's CFP.
"I think we have some of the best teams in America here in the Big Ten. What I know is our focus is, this is March Madness and it started vs. Notre Dame. We win and we move on and that's all that we're focused on right now because we know that if we win, we'll have an opportunity to reach our goals. That being said, there are some really good teams in this conference, and based on how it all shakes out, yeah I absolutely think that there's a chance that two Big Ten teams can make it."
For Day's scenario to play out, both teams would need to enter the season finale 11-0. That means they've got to take care of business during their Week 11 matchups before anything else.