Urban Meyer calls Marvin Harrison Jr. the best player in college football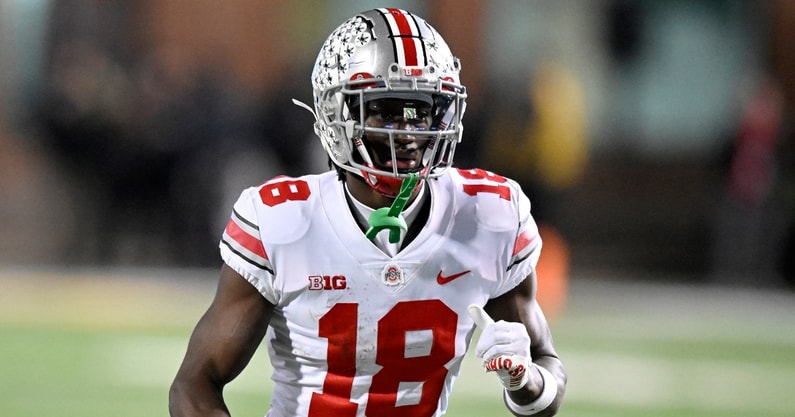 Just about everyone agrees that Marvin Harrison Jr. is the best wide receiver in college football. Now, former Ohio State head coach Urban Meyer has taken that one step further, saying that Harrison isn't just the best receiver but the best player in all of college football.
Meyer said this during an appearance on The Hard Count with J.D. PicKell.
"I think Marvin Harrison Jr. is the best player in college football, I thought he was last year."
"You know, he should have been in New York for the Heisman," Meyer said. "And when he got hurt in the Georgia game, it changed."
Urban Meyer is certainly right that the Ohio State offense was a different animal before and after Marvin Harrison Jr's injury. He made an incredible difference for that offense. Now, going into the 2023 season, why shouldn't he be considered one of the best players regardless of position?
As just a sophomore in 2022, Harrison had 77 receptions for 1,263 yards and 14 touchdowns. He did so, in large part, because he had to step up and replace Jaxon Smith-Njigba, who missed most of the season with an injury.
Urban Meyer on Ohio State's quarterback battle
Going into the 2023 season, Ohio State is going to have a quarterback competition. It's a battle that Urban Meyer made a point of breaking down.
"The one thing that you'd like to do is find your guy and find him early and get moving. The negative is that if you do that early the other guy will probably leave and then you're stuck," Urban Meyer said on Urban's Take with Tim May.
"I've not talked directly about that to coach (Ryan) Day, but I'm sure that's on the back of his mind saying, 'I've got two. He feels good about those two quarterbacks, they've been around, they're talented. But what happens once you name a starter?"
This spring, junior Kyle McCord and redshirt freshman Devin Brown are expected to be the two quarterbacks competing for the job this spring.
Greg McElroy says Ohio State's questions are on offense
Despite its recent success and still having Marvin Harrison Jr, Greg McElroy thinks that Ohio State's questions are on the offensive side of the ball.
"The questions for Ohio State this offseason really almost entirely reside on the offensive side, which is odd because I don't remember the last time I've had legitimate question marks about the offense. Even as they've undergone transition at quarterback, whether it be from JT Barrett to Cardale Jones, back to JT Barrett, Dwayne Haskins to Justin Fields to CJ Stroud, I've just never been concerned about the quarterback situation. And guess what, here in 2023 I'm not concerned either," McElroy said.
"I'm also not worried about the running game. I think the biggest thing they need to do with the running game and the running backs in particular, stay healthy. Like we know that they've got some guys, the team as a whole last year averaged nearly five and a half yards per carry, that was 11th best in the country. That's with a quarterback that wasn't exactly a super mobile option."