LOOK: Austin Stogner delivers message on Oklahoma graduation, South Carolina transfer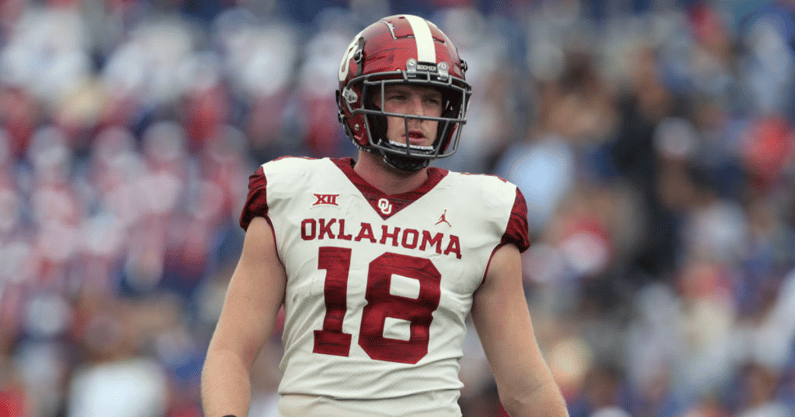 After going above and beyond to complete his degree this spring, Austin Stogner his completed graduation from Oklahoma prior to his transfer to South Carolina. Now officially a Sooner for life, he worked well above the standard hours of a full-time student in order to become a three-year graduate.
Shortly after his Oklahoma graduation, Austin Stogner took time to thank those who helped him reach his current position, both on the field and in the classroom. He can recognize this great accomplishment and focus on his move to SEC football as a Gamecock.
"After completing 21 hours this semester, I have officially graduated from The University of Oklahoma," Stogner tweeted. "Sooner for life! Forever grateful for the memories and people I've met over the last three years. I could not be more excited to start my next chapter in Columbia, South Carolina!
"Huge shout-out to Joe Castiglione for taking care of me this last semester. He certainly didn't have to help me out, but he did. Great AD but a better person. 'Once a Sooner always a Sooner'"
The No. 3 tight end from the 2019 class according to On3 Consensus, a complete and equally weighted industry-generated average, Stogner joined the Sooners the same season as fellow South Carolina transfer Spencer Rattler. Stogner finished the 2020 season with 26 catches for 422 yards and three touchdowns across eight games that year. He missed the final four games of the regular season after suffering a knee injury.
More on Austin Stogner's South Carolina move
Although South Carolina coach Shane Beamer has had the opportunity to evaluate a number of transfer players in spring practice so far, he is still waiting on a big name to arrive: Austin Stogner. The former Oklahoma tight end made the decision to transfer to the Gamecocks this offseason, and figures to be a key part of the passing game led by former Sooners quarterback Spencer Rattler in 2022.
However, he has not yet arrived on campus. In a recent press conference, Beamer provided an update on what the communication has been like with Stogner while he finishes his degree.
"As soon as he finishes his four classes that he's got to take to graduate from Oklahoma, he'll be here," the coach said. "He's able to come occasionally where it's not on a consistent basis. He's been out (to spring practice) a couple of times like any high school recruit, because that's essentially what he is as far as being able to get out here. He's back home right now finishing up the online classes. As soon as all that's done, he'll be here for good. Whether that be May, June or whatnot."