Mom says Oklahoma out for No. 1 recruit Marvin Jones Jr.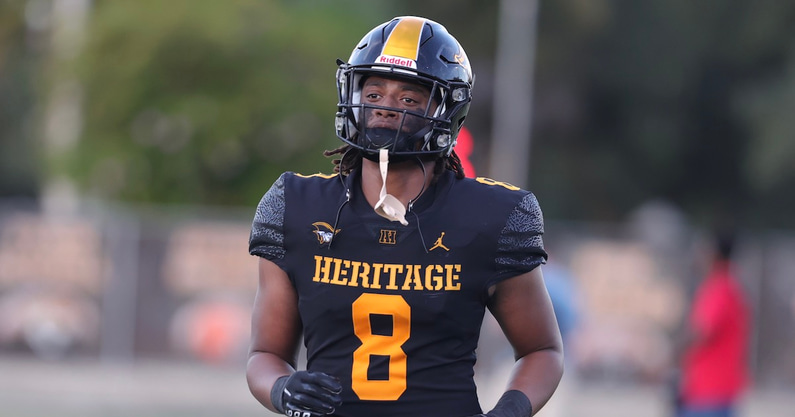 Oklahoma's chances with the Marvin Jones Jr. – the nation's No. 1 recruit from Plantation (Fla.) American Heritage – might have dissolved after Lincoln Riley took the USC job.
A social media post from Jones' mother, Alexsandra Jones, appears to indicate the Sooners no longer are a factor in her son's recruitment.
In a reply to a tweet about Oklahoma losing commitments from Los Alamitos (Calif.) High Five-Star Plus+ quarterback Malachi Nelson, American Heritage four-star wide receiver Brandon Inniss and Jacksonville Trinity Christian Academy four-star running back Treyaun Webb, Jones responded with "And #marvinjonesjr."
Sooners were in good shape with Marvin Jones Jr.
While Marvin Jones Jr. never went public with a commitment to the Sooners, intel indicated Oklahoma was very much a factor for the five-star EDGE.
Jones told On3's Chad Simmons five days ago the Sooners were in a good spot in his recruitment, along with Alabama, Florida State and Georgia.
"Oklahoma likes how I can get to the quarterback, so they like me coming in and playing early," Jones said. "I see that chance, too, so I like that."
Jones already took his official visit to Norman, and he said he loved what he saw in the town, on campus and with the fan base.
"Game day is crazy at Oklahoma," Jones said. "They have great fans, they are loud and they are always there. I liked the environment a lot. I had a good time out there."
But with Riley gone, it appears the chances of the Sooners being a real threat in his recruitment also are gone. That's especially true if Jones' mother has a say – which she does – in the decision.
"Two years in the making on recruitment and left high and dry," Jones' mother said in another tweet.
Jones is scheduled to visit Georgia officially the weekend of December 10. He was talking about wrapping things up shortly after that. It'll be interesting to see what the news in Norman does to his timetable.
"I think about recruiting every day," Jones told Simmons. "It has been stressful, but I am taking it day by day and working to make my decision.