Oklahoma football makes curious cancellation amid quarterback controversy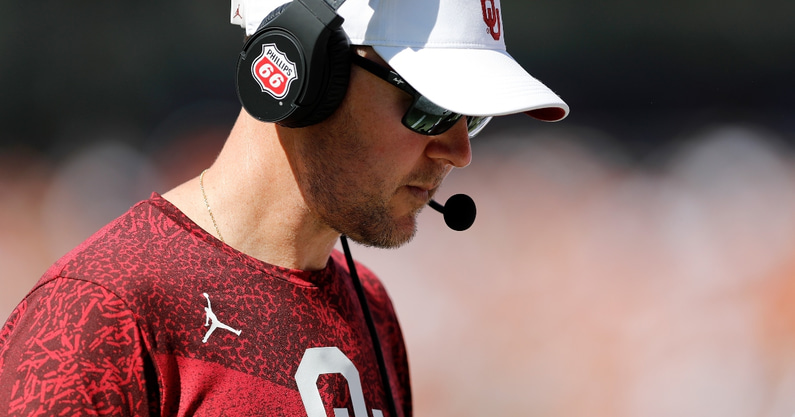 If answers are what you were looking for regarding the Oklahoma Sooners quarterback controversy, you won't receive them today. The team cancelled all media availabilities today without giving a reason, and there's no more media availability until after Saturday's game.
"OU football has canceled all media availabilities today. No reason given," tweeted Oklahoma-based sports anchor Carson Cunningham. "No more media until after Saturday's game."
On a day where quarterback questions would've ran rampant, Oklahoma decided to not allow any questions at all. Unless a statement is given, we won't know who the Sooners starting quarterback is until they take the field against TCU on Saturday night.
For the second straight year, an ineffective Spencer Rattler was benched during the Red River Showdown. However, this year he didn't return to win the game for the Sooners.
Instead, highly-touted recruit Caleb Williams led Oklahoma to victory. He showed off his play-making ability — rushing and throwing for electrifying touchdowns.
Oklahoma Sooners: Spencer Rattler's Future
Since, rumors regarding Rattler's future with the program have been swirling. Additionally, they were given a shot in the arm when the former Heisman favorite was absent from Oklahoma's practice on Monday.
Rattler's father, Mike, told the University of Oklahoma student newspaper that his son was sick and the absence was cleared by Oklahoma head coach Lincoln Riley. 
OU Daily, the Oklahoma Student newspaper, does not usually observe Sooners' practices. However, they did so Tuesday under heightened interest given the situation — watching the offensive practice regimen from a public building near the OU football practice field.
Per OU Daily, Rattler was spotted taking snaps with the second team offense while freshman Caleb Williams worked with the starters.
Rattler's father shined some light on the situation and the mentality his son has moving forward in the 2021 season. "He's focused on working for this team, and we'll see what happens after Jan. 10," stated Mike Rattler.
Evidently, the Oklahoma quarterback position moving forward is in flux. Rattler's time as the starter, and with the Oklahoma Sooners in general, could be running out quicker than we ever imagined.