Lane Kiffin explains how Mark Stoops' Kentucky defenses compare to his brothers'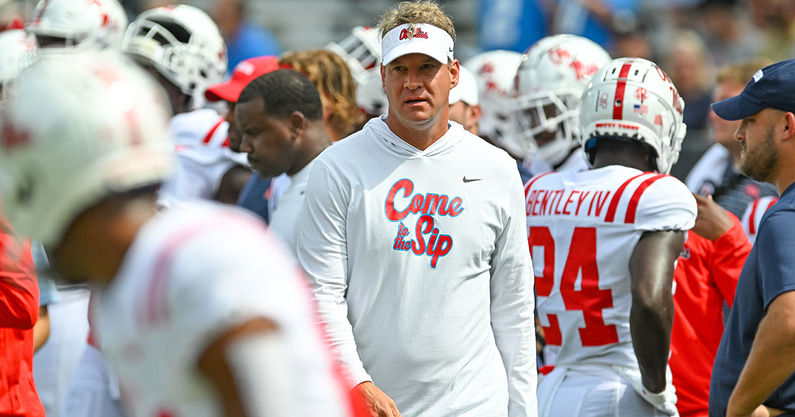 Lane Kiffin is no stranger to the Stoops brothers and their stellar defensives over the years. Mark Stoops is no different. Ahead of No. 14 Ole Miss' SEC cross-divisional matchup against No. 7 Kentucky, Kiffin discussed how the UK headman's defenses compares to his brothers.
"I've seen his brother's similar [defenses] over the years and I've played both of them. They are really tough [and] challenging in different third down packages," Kiffin said during Wednesday's SEC Teleconference. "Very multiple and really good job of utilizing their players. Program with true freshman starting already says a lot about coaching."
CLICK HERE to subscribe for FREE to the On3 YouTube channel
Lane Kiffin has coached against all three Stoops brothers. Bob, Mark and Mike. Bob and Mike Stoops were on the Oklahoma payroll when Kiffin battled them as headman at FAU in 2018's season opener. Now that they're both in the SEC, Mark is the Stoops brother he needs to be worried about now (although his brother, Mike, is also on UK's staff now).
In their first matchup against each other as headmen at Kentucky and Ole Miss, respectively, went to the Rebels in a 42-41 thriller that saw Kentucky miss a PAT in the final quarter for the difference. With two and a half seasons removed from their last matchup, Kentucky will travel to Oxford for the first time since 2010, where Ole Miss won 42-35 in a victory that has since been forfeited by the Rebels.
Though, the Wildcats and Rebels' history isn't what matters. With Stoops' defensive expertise going against Kiffin's offensive prowess, the two are set to do battle at noon ET live from Oxford this Saturday. Despite Vaught Hemingway Stadium being completely sold out for the Top 25 matchup, you can catch the live broadcast on ESPN Saturday afternoon.