Bo Nix offers thoughts on entering first fall camp as a married man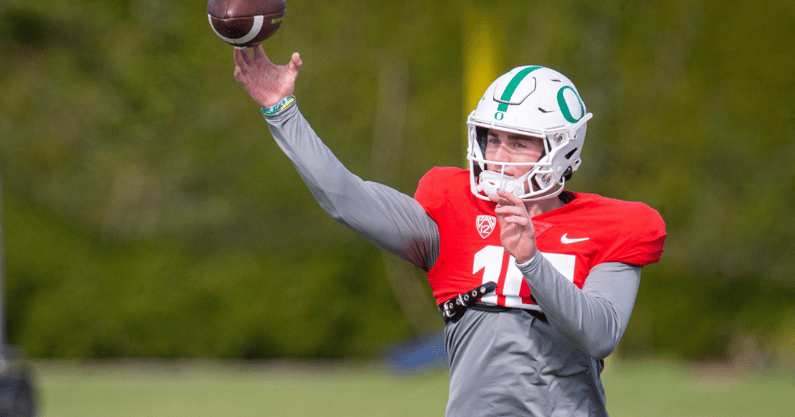 Oregon quarterback Bo Nix was married to his longtime girlfriend in July 2022. That makes Fall camp with the Oregon Ducks the first he's had as a married man, as well as his first with a new school. Nix gave his thoughts about this change.
"Obviously, it's been a really enjoyable offseason," Bo Nix said. "Not many college guys–college football players–get to be married. So, I'm excited about that. It's been great. It's been very special, especially going back, seeing our families, having a great wedding, beautiful ceremony, all that good stuff. It's been really good coming home this Summer, having somebody to be with."
"Obviously, it was a long six months from January to June, but it prepared me and gave me a lot of good time with my teammates–a lot of individual time with them. But, it's been a good long offseason. I feel like it's been one of the longest of my career. I'm just really excited to get back on the field again," Bo Nix concluded.
Bo Nix transferred to Oregon from Auburn where he had been a three-year starter. He's currently in a quarterback competition for the starting job with the Ducks.
Ivan Maisel sets expectations for Bo Nix at Oregon
On3's Ivan Maisel set realistic expectations for Bo Nix at Oregon. All things considered, they're relatively low.
"I'm not expecting a whole lot out of Bo Nix," Ivan Maisel said. "I mean, we got a pretty good sample of what he could do at Auburn and I think he was competent, good. He's now in a new place, new system, new everything, and I'm really curious how he does just because I think he's a good litmus test for the scope of all these transfers and what they're going to get themselves into. I don't expect him to be markedly better than what we saw at Auburn."