Micah Shrewsberry jokes about gas station debate, conversation with Andrew Funk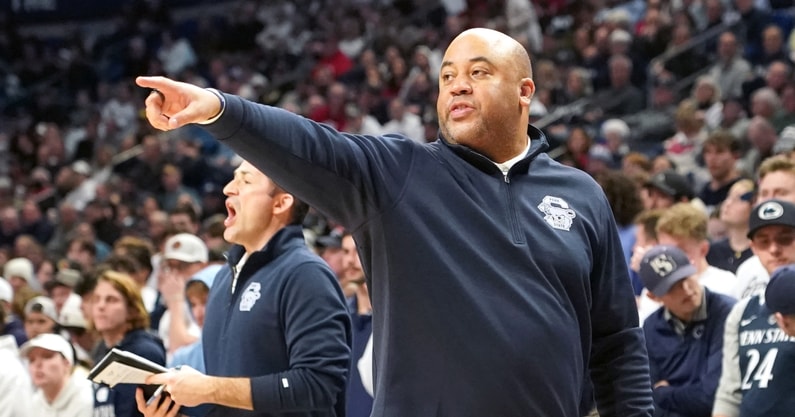 After picking up a 76-65victory Saturday at home over Nebraska, Penn State head coach Micah Shrewsberry walked up to transfer guard Andrew Funk and shared a moment with him on the court.
Shrewsberry was asked in his post-game press conference about what he said in that moment. In a good mood after the win, Shrewsberry decided to poke fun at the infamous Pennsylvania gas station debate.
" I went back to a question (from) before the Purdue game, they were asking a bunch of questions and stuff," Shrewsberry said. "They were like, 'Wawa or Sheetz?' And I was like, I don't get a chance to experience Wawa as much because they don't really have them here. I don't get to Philadelphia as much. But I do and I've tried it. One out every couple of times, you gotta get the same sandwich. I'm a creature of habit so I've gotten the same thing every time. And I asked him, how does that compare the Sheetz? What's his order going to be? He didn't really give me much in that moment. He was all focused on the game. He's like, 'Coach, what about defense and this.' I was like, 'who cares, man: Wawa or Sheetz?' Let's get down to the real nitty gritty."
However, after he finished his joke, Shrewsberry answered the question.
"I thought this was a big game for us," Shrewsberry said. "I thought this was a huge game for us to win, especially at home. We want to play well at home. We got to hold serve at home and then try and go steal some on the road. The way he played I thought was huge. He spurred us to a huge win. It was just a little congratulations for him."
Andrew Funk was a difference maker for Micah Shrewsberry's Penn State team.
Andrew Funk lead all scorers with 23 points on 8-for-13 shooting, including 5 of 10 from beyond the arc.
The performance also came in the first game after Funk missed two 3-pointers in the final 10 seconds of a three-point loss to Wisconsin.
"He was down after he missed those shots at Wisconsin," Micah Shrewsberry said. "He kind of put that on himself, and it wasn't. He got two great looks at it, and I'm gonna take 'em any day of the week. But he was upset after that game and for him to bounce back and respond like this. I'm proud of him. That's what seniors do and he played 36 big minutes for us tonight."
His 23 points tied his season high, which he had accomplished two games earlier against Indiana in a 85-66. He also shot 8 of 13 in that game, too.
Seth Lundy added 16 points on 50% shooting from the field and Jalen Pickett had a double-double of 12 points and 13 rebounds.
The Nittany Lions are now 13-6 on the season and 4-4 in Big Ten play with an away game at Rutgers next on their schedule.