Penn State's Fred Hansard issues statement on push of Taulia Tagovailoa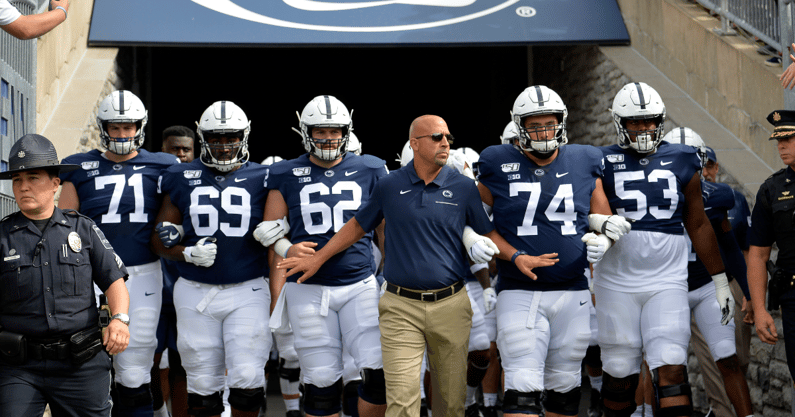 Penn State defensive tackle Fred Hansard released a statement via Twitter apologizing for his sideline push of Maryland quarterback Taulia Tagovailoa. As the Terrapins quarterback's momentum carried him out of bounds, he met Hansard, who promptly shoved him to the ground.
"I would like to extend my sincere apologies for the unfortunate incident that took place on the sideline Saturday," Hansard said in a statement. "I did not and would not intentionally try to hurt another player. I believe in the integrity and rules of the game. My actions were not in line with the expectations we have for ourselves as a Penn State football program. Please accept my apology for any unsportsmanlike behavior."
Hansard also offered an apology to his teammate, Rasheed Walker, who wears the same number. Many mistook Hansard for Walker following the perceived dirty play.
"Not only did my actions make you the subject of false public criticism Saturday, but I also misrepresented what it means to wear #53 for Penn State football," he said.
Fortunately, though Tagovailoa had to leave the game for one play, he was able to return. He finished the game 41-of-57 passing for 371 yards, a touchdown and an interception. Penn State defeated Maryland, 31-14, to snap a three-game losing streak.
The victory granted the Nittany Lions bowl eligibility, as they currently sit at 6-3 overall. They run into a tough matchup against No. 7 Michigan at noon ET on Saturday in Happy Valley.
Although the actions of Fred Hansard against Taulia Tagovailoa looked reprehensible, it is encouraging to see him own up to the mistake. Penn State will look to put that memory behind it as it focuses on strengthening its resume for bowl season. The current projections from CBS Sports writer Jerry Palm pit the Nittany Lions against Arkansas in the Music City Bowl.