College football insider details latest on Jordan Addison situation, speculation on possible tampering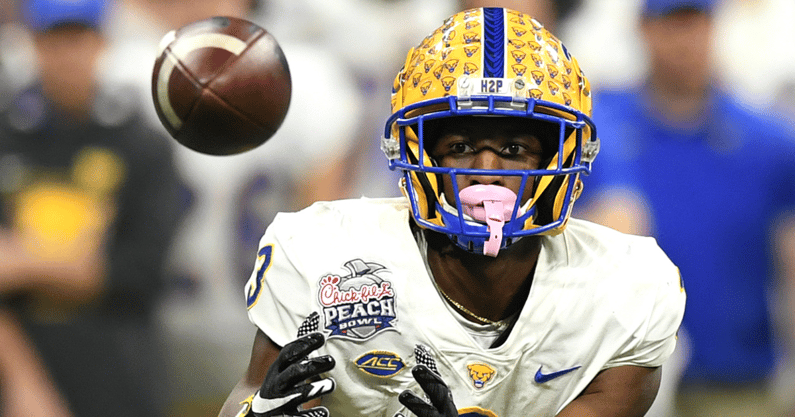 A developing situation is unfolding in Pittsburgh after reports surfaced saying Jordan Addison could transfer to USC to sign an NIL deal. On Saturday, ESPN insider Pete Thamel provided more details about what's happening.
As it turns out, Pitt coach Pat Narduzzi called USC coach Lincoln Riley regarding Addison and accused the Trojans program of potential tampering. Addison isn't yet in the transfer portal, and he has to enter by May 1 to be eligible for next season without a waiver.
Thamel shared more insight during an appearance on College GameDay ahead of Day 3 of the 2022 NFL Draft.
"This is a really fascinating situation that's suddenly thrust itself to the forefront of being the biggest story in all of college football," Thamel said. "Jordan Addison won the Biletnikoff [Award] last year. He was a first-team All-American. The Pitt football staff has essentially accused USC of tampering in this situation. They feel strongly like USC is a possible destination.
"It's to the point where Pitt coach Pat Narduzzi multiple times called USC coach Lincoln Riley yesterday and had some pointed conversations with him to express his displeasure. I really think we may look back on this as something in college football that's a little bit of a pivot point. You have one of the most established stars in the sport who will find out in the next 18 hours whether or not he could go on the open market."
Last year with Pittsburgh, Addison had 100 receptions for 1,593 yards and 17 touchdowns to help lead the Panthers to an 11-3 overall record, including a 7-1 mark in ACC play. He's a potential preseason All-American candidate for the 2022 season and garnering some way-too-early 2023 NFL Draft hype.
He also comes in as a member of the On3 NIL 100 as the No. 98-ranked player with an NIL Valuation of $139K.