Gavin Griffiths commits to Rutgers, becomes highest-ranked recruit in program history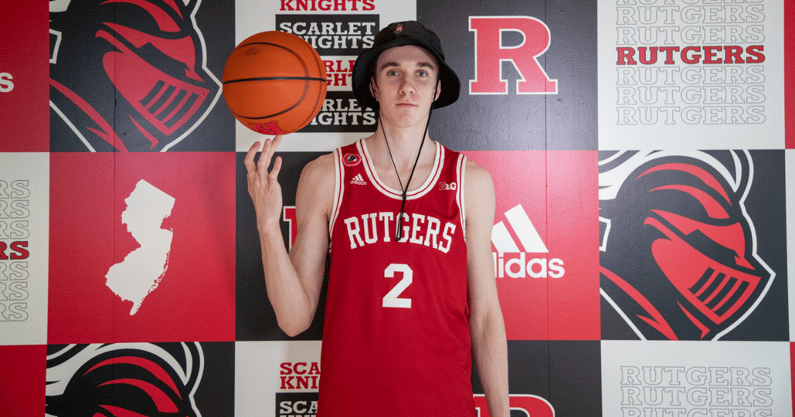 Gavin Griffiths, a 6-foot-7 shooting guard out of West Hartford (Conn.) Kingswood-Oxford School has committed to Rutgers, he tells On3.
"I chose Rutgers because of my relationship with coach Steve Pikiell and the entire coaching staff," Griffiths said to On3."
"(The) official visit reinforced how much I like the coach and the program," Griffiths said to On3's Jamie Shaw. "It's clear in watching them how much Coach (Steve) Pikiell coaches the defense and they blow up ball screens and lock in the whole shot clock. In that system, I think I will improve a lot. One of the things that stands out to you is when you talk to the strength coach, he knows what he is talking about and he will get me right.
"The Rack is one of the smaller gyms I have been to, but the atmosphere is great. They pack them in there, and it just gets crazy there. They have a brand new training facility for basketball that is nice as well."
Griffiths, known as a sharpshooter, chose the Scarlet Knights over offers from UConn, Providence, Iowa, Michigan, Virginia Tech, and others.
On3 is higher on Griffiths than the industry, ranking him as the No. 15 overall prospect in the 2023 class, and the No. 1 shooting guard. He becomes Rutgers' highest-ranked recruit in program history. The On3 Consensus – a complete and equally weighted industry-generated average that utilizes all four major recruiting media companies – ranks Griffiths as the No. 32 overall prospect in the country, and the No. 5 ranked shooting guard.
Griffiths becomes Rutgers' first commitment to the 2023 class. Head basketball coach Steve Pikiell will bring in three additions to New Brunswick next season — three-star PG Derek Simpson, three-star PF Antwone Woolfolk, and Loyola Maryland transfer Cam Spencer.
Putting the ball in the net is what Griffiths does best. The sniper averaged over 25 points per game this season for Kingswood-Oxford School, shooting better than 40-percent from three.
Griffiths Scouting Summary
"Gavin Griffiths has good size and plays the game with a mean streak. He is a pure shooter with confidence and deep range. The 6-foot-7 wing has good length and is a good positional rebounder. He can push the break in the open floor. He needs to continue working on his lateral quickness, but understands angles and gives great effort on defense. Griffiths moves well off the ball, understanding angles and where his spots are. He attacks closeouts well scores in the mid-range." – Jamie Shaw, On3's National Recruiting Analyst
Griffiths gave his own, self-scouting report.
"The best thing I do is shoot," Griffiths told On3's Jamie Shaw. "Pretty much anything on the floor, rebound, drive, pass, I do. My main focus this season has been defensively. My handle is getting tighter, and I'm getting to my spots. I watch taller guards who can shoot like Klay Thompson, some Jaylen Brown."